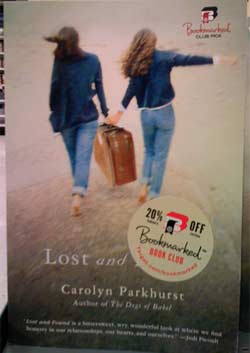 A recent trip to Target proved interesting with the latest tale from Carolyn Parkhurst: Lost and Found. The cover jumped out at me and said, "Don't read me!" especially with that special sticker that someone at Target
decided would be great to place over half the book's title. Hooray! Two people running with abandon on a beach. How clever! Is this the novel form of that popular TV non-reality series where those people crash in a plane and get lost on a beautiful island that we pretend isn't part of Hawaii?
Of course, it's obvious who this cover appeals to, and the book seems to have had plenty of success. It really is about a TV show, apparently a reality show with people running around trying to win a million dollars in a crazy race. Someone should make that show for real life TV. Call it "Stupendous Contest" or something.
So, I will withhold overall judgment until I read Lost and Found — we'll call
that day Judgment Day because that's probably when I might consider
reading it.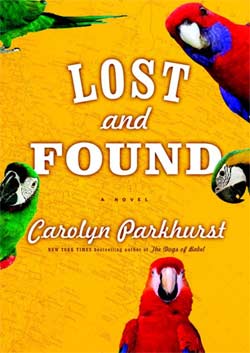 I did run across this gem of a quote, which should appeal mostly to New Yorkers prepping the helicopter to head home from the Hamptons: "We manage to hail a cab pretty quickly, despite the fact that we're carrying a parrot and a ski pole…." Oh, Mimsy! In any event, the hard cover version of the cover was apparently too garish with snarky half birds everywhere. Two words: parrot butt. So, at least they improved upon their cliche
the second time around.
Comments