You might love how comfortable your Crocs are. You might even dare wear them out in public, but never forget that they are still ugly. Get rid of them.
And while I thought that Crocs alone were a nightmare, I was then walked hand-in-hand with horror down Elm Street at Crocs.com. It was there that I noticed that things have gotten much worse with the sports models. You can get your favorite MLB, NFL, NHL, NASCAR, or college team or some nice PGA ones.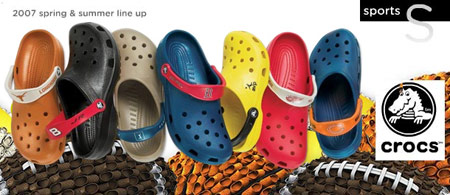 Unless you have size 2 feet, these things are all flop and no flip. And while flip flops could kill you, they are always preferred over Crocs.
Maybe you'd like to try to some Ocean Minded flip flops instead? Just remember that no amount of brand differentiation can take away the fact that the parent company is named after the ugliest shoe currently known to man.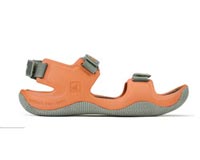 If you can't overcome that fear, then get some Brazilian Havaianas instead. They are simple and cheap and will probably be huge next year in the States if my trend meter is right. There's also Sperry, if you want a war wound scar on your feet like me from breaking them in. Probably best to avoid them though since they have some awfully Croc-like models (note picture).
Comments