After getting the guts of the blog up and going today, I wasn't sure where I wanted to begin with actual posts. The motivation to even start blogging about the things I see (that most people don't realize that they see too) has always been that images of escape and paradise are everywhere. I have now spent years collecting these images, usually several per day, so I knew that something would pop up. I was right.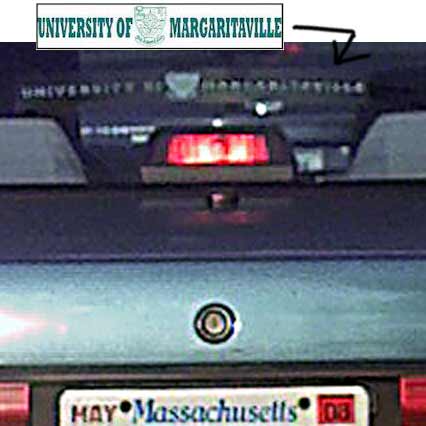 Tonight, I was en route to a friend's house for some heavy lifting and moving van time, and I peered up at the car in front of us only to see a "University of Margaritaville" sticker. Oh, yes, Margaritaville, the same image of island life just wasting away again on the back of this New England Mazda. Where else?
For those who have driven in Boston, you know that even the slightest imaginary escape is necessary to survive the traffic. In fact, if you realize that you need a sticker of your own, I think they're around three bucks on Buffett's websites (no, I'm not affiliated with them).
Margaritaville, along with Buffett's music and "Parrothead" disciples, are one of the marketing movements that started really pushing the traditional island paradise images that invade our everyday lives. Jimmy Buffett has taken it far, and this won't be the first post about him. At a minimum there's Cheeseburger in Paradise that'll need some attention.
In the end, a paradise bumper sticker is hardly a strange site. There's certainly no reason to obsess over its existence. I just want to point out that this site is ultimately not a University of Margaritaville to explore a Jimmy-Buffett-like take on life.
There are tons of other images that attempt to help us escape from the day to day. This site is about celebrating them when they're good and pointing out when they're bad. This bumper sticker kicks off the blog and therefore can be held in some esteem. Let's break open some champagne on this ship and get moving.
Comments