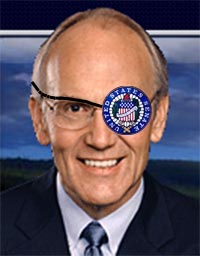 Up until I posted the Pirate Politician Post on Rep. Jerry Weller (R-IL), I had avoided using Larry E. Craig as the first "Pirate Politician" for various (perhaps obvious) reasons, but this week his hypocrisy and lust for luxe have been further exposed. It's time.
I'll dive right into this post, which was born because of this New York Times article on the "floating trailer park" of yachts that so many politicians and other beltway bigwig bandits call home, including Larry Craig.

Check out this AMAZING photograph that they posted in the article (full size and quality available at the article link). They couldn't have found a better way to make his yacht life look like he's leaving prison with his man bag.
Who has lived on the slips here? According to Marilyn Thompson, there were Randy Cunningham (R-CA), Ted Stevens (R-AK), Robert W. Ney (R-OH), and James A. Traficant Jr. (D-OH). It's a floating neighborhood of luxurious losers.
Among many classic examples that we have seen this year, Larry Craig is another man who is more in love with the image of who he thinks he is than with himself. When people love who they think they are (usually the person that they have been told they have to be), they become willing to sacrifice themselves and others to get what they must have: e.g., fame, money, yachts, beachfront property, etc.
This guy's private life should be his own business, but when his hypocrisy affects others, he has to be exposed. I'm talking specifically about how he voted against expanding hate crimes protection legislation for "his people." Whether you support this particular bill or not, you can't argue that he is a huge hypocrite.
Thank you, Larry Craig, for exposing once again that where there are ethical failings in government there are also usually two tickets to paradise, or at least keys to the yacht club gates in your man purse.
UPDATE: I hadn't seen this article from Seth Hettena at the New Yorker. It's equally great.
Comments