The pearls keep pouring in. We had the Intel pearl Centrino, the Tiffany pearl layering, and now the stink-slaying Renuzit pearls: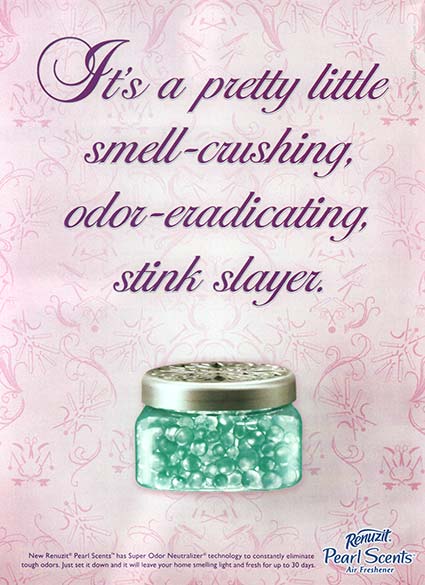 Renuzit already uses so many "image"inary scents from paradise that delving into sea life as industrial design seems like the logical next step. I would say that I hate this product, but I think that it is also pretty smart as marketing goes. What I do find terrible are the many scent names they have come up with. Here's a Rapidsea list, which encompasses the vast majority of their overall scent collection:
After the Rain
Rainflower Mist
Dream Garden
Tropical Melon
Paradise Breeze
Caribbean Cooler
Orchard Garden (citrus fruits)
Citrus Sunburst
Tropical Harmony
Waterfall Mist
Mountain Fresh
Hawaiian Sunset
Pure Breeze (with oceanfront window)
Brisa del Paraiso
Gentle Citrus Orchard
Cool Morning Air
And breathe.
You can see them all here. Lots of paradise on that web page, and most of it is trademarked. Doesn't it smell great?
Comments