I was once in a movie theater in Utah, and prior to starting the G-rated cartoon the locally owned cinema thoughtfully decided to play a slideshow of photographs from a local artist who had an extensive collection he had taken on a trip to Europe. One of the photos was of a famous fountain with a female sculpture with exposed breasts. Shock spread across the theatre. Kids gasped. You could hear parents' hands sliding past their kids' noses to cover their eyes, and older kids yelled out to others: "CLOSE YOUR EYES!!!" These are the people who are also offended by the classic first Starbucks logo.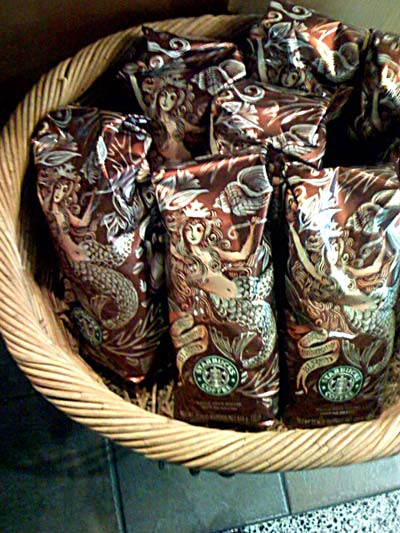 In Seattle in June I got to see the original one, and it makes me wonder why they don't just push back all the way or abandon it altogether. People who are offended by the illustration's exposure already think this version is mildly offensive. And people who are not offended by the actual old logo, find this one odd and maybe even offensive.
There are a thousand ways to draw a normal mermaid without having to hide the symbol's historical form, yet Americans still only see her breasts with or without her luxuriant tresses covering them.
Another new logo anyone?
Comments