Harley Davidson sent out this promotional email today, available here: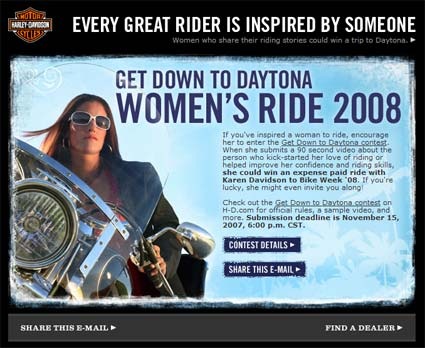 The motorcycle, and Harley Davidson in particular, is the ultimate American escape medium.  Even though South Dakota and Wisconsin are great places to ride, Daytona has long held a special place in riders' hearts.  Maybe it's the palm trees and huge beach.
Everyone seems to have jumped on board motorcycle mania.  Even stodgy Swiss insurance companies are advertising with the hype, like Zurich here: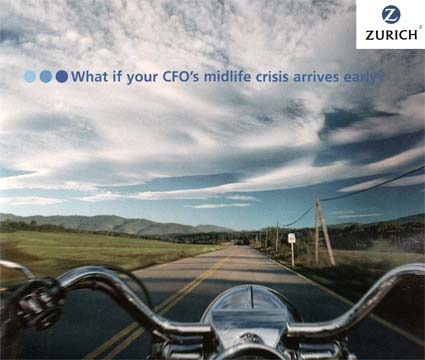 Women riders are a fast-growing portion of Harley's market, and they have made calculated efforts to draw them in.  If you take a look at the Women's Ride contest page here, you'll notice how it talks extensively about mentoring.  Part of Harley's plan has been to help women who, in the past, might have been wearing those "If you can read this…" t-shirts overcome their fear of commandeering their own two-wheeled escape vehicle.
I can think of two women that I know who are actively preparing themselves to get their own motorcycles.  They have their licenses, but they are still trying out others' Harleys to get a feel for what they want, need, and feel that they can handle.  Of course, I know other women who could kick my teeth in, but instead they have offered me their mentoring.  I'm almost ready to ride.
SIDE NOTE: Zurich also has a scuba diver on its home page:

I'm not sure what scuba diving has to do with commercial insurance.  Anyone?
Comments