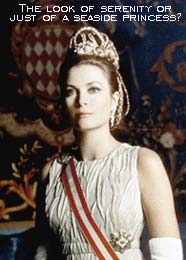 There is no better classical image of escape artistry than Grace Kelly.  According to the Wiki Emperor of All Knowledge, she was the daughter of a Pennsylvania brick manufacturer/Olympic champion.  She went on to Hollywood and later to becoming "Her Serene Highness Princess Grace." 
I don't know exactly what being a Serene Highness means socially, but what she got spatially was a fantastic little kingdom by the sea.  She was obviously very smart.  Lindsay Lohan and Britney Spears could learn something from her.
Fall 2007 marks the 25th year after her death, and the government of Monaco and various New York institutions are hosting a ton of tributes in her honor.  Be sure to check out Sotheby's here and the Visit Monaco site here for more information.  The events include a Sotheby's exhibit, Casino Couture, the Annual Princess Grace Awards Gala, Saks 5th Avenue window displays, and Making Music in Monaco — among others.
Comments