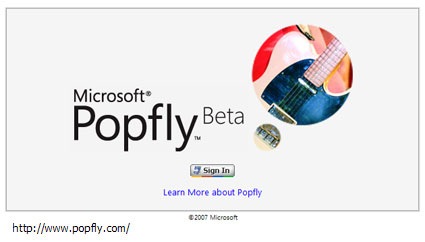 If you look at that image there, you'll see a flamingo with its head wrapped around the guitar.  There are some other images, which look mostly like standard stock photos, that rotate through the mix: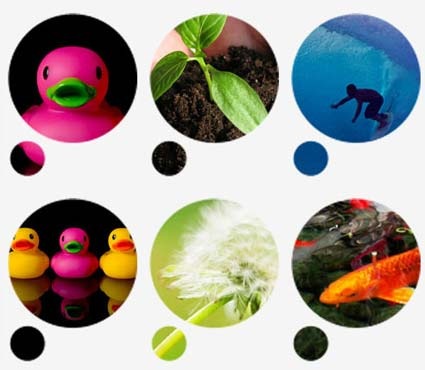 I started writing the post before I saw these, and of course the surfer, the dandelion-filled meadow, and the goldfish are all topics you can find here at Rapidsea.  Do these pictures have anything to do with something called "Popfly," and does a pop-fly have anything to do with Microsoft?
Popfly is a self-described "…fun and easy way to build and share mashups, gadgets, and Web pages. It's made up of online visual tools for building Web pages and mashups and a social network where you can host, share, rate, comment and even remix creations from other Popfly users."
Goldfish are not the international symbol for visual programming tools.
You can just enjoy these images or you can delve into the rest of the ranty post that follows (and includes some praise for Apple from a lifelong Microsoft user).
My public critique of Microsoft, which included some praise directed mostly at products that they had acquired from other companies, started in my post from the Boston REMIX07 conference earlier this month.  It is Rapidsea's longest post to date, and it came on a day that I didn't expect to write anything for the blog.  The event, however, was chock full of Rapidsea images/ideas and sports analogies to the point that I actually did not even write about them all.
For Popfly, why wouldn't you want to put more thought into the public face of your product?  Just planting the same images that everybody else is using seems crazy for an idea that could potentially turn into something really great.
I have always been a Microsoft user.  I'm using Windows Live Writer now.  When I was seven, I knew MS-DOS like few other children, and for a long time I just hated Apple because of its status on the French government's anti-sects and cults list.  Then I was one of the first to buy into a Windows iPod and then an iPhone.  Apple's pulling me, Microsoft, because they don't just see flamingoes and baseball.  They see users.
I have been clinging on to Microsoft hoping that they would make it into the 21st century as an innovator, but they seem to be missing something that Apple seems to be getting.  If you follow that link, you'll hear Tom Yager saying, "Leopard is magnificent code architected from the user in, rather than from core technology out."  The USER in.
My greatest critique from the Microsoft conference was that with Silverlight they seemed to have put all their work into pleasing the programmers and helping them maintain their C# or VB status quo so that they can deal somehow with the outside world.  And to the designers, it felt like they were saying, "You need to learn to play better with developers."  I understand both sides of this approach, and even cheered with the developers, but I totally understood why the designers who had flown in for the conference were a little peeved.
With Apple's Boot Camp where it is, which would allow me to run the one set of software that I use that is Windows only, I am having a very hard time trying to understand why I shouldn't switch.
Comments