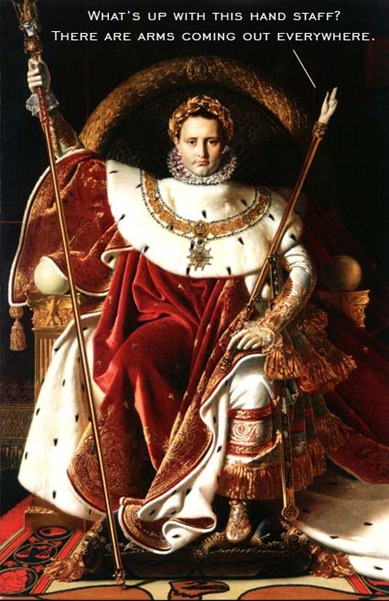 If you want to see objects of the glory days of Emperor Napoleon, get on up to Boston's Museum of Fine Arts for the exhibition "Napoleon: Symbols of Power." It contains objects from 1800-1815. The brochure reads: "Rare treasures on view range from Napoleon's sword and folding campaign bed to one of only four surviving thrones and opulent furnishings from his imperial chateux." But who cares about the empire of good when you have a little island exile?
If you want to see the squalor in which his life ended on the beautiful island of St. Helena, hop on the last Royal Mail Ship as mentioned in this post and take a two- to fourteen-day cruise to the island. While there, you can tour Longwood House where Napoleon was eventually housed. Here is the renovated version: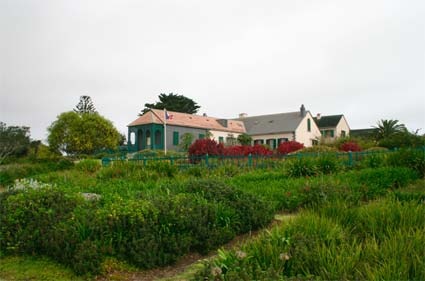 His accommodations were supposed to be large enough, and cushy enough, for a captured general, but it's debatable if Longwood House really was. It was pieced together over time, and his new household goods were collected from individuals across the island. So basically Napoleon lived in squalor with his family, aides, and the rats. They even all got to share the bath water.
Saint Helena is a tropical island, but it's not like Aruba. The weather on Napoleon's little corner of the island has constant wet trade winds blowing over it, so there was always problems with dampness in the House. I stayed in Longwood several hundred feet from the House for a short period of time, and it was rarely sunny. I would have gone crazy faster than Napoleon did.
The house has since been fixed up and has special status as a French property. The French flag flies above it even though Saint Helena is a UK Overseas Territory. A French national, Michel Martineau watches over the house.
Napoleon eventually died of stomach cancer, which is the official stance of "The House." They provide a very compelling argument as to why they take this stance if you take the official tour, which is fantastic.
Upon Napoleon's death, they never put a name on his island tomb because the British refused to put simply "Napoleon" on his grave in the tradition that an emperor might enjoy, deciding that he should instead have his proper military title "General Napoleon" or nothing. After the French recovered his body, they gave him the proper title on his tomb at Les Invalides.
Saint Helena is worth an adventure if you want a non-traditional island. You can sip some of the world's purest coffee while walking through several different climates in an afternoon, from desert to cloud forest. And if you don't want to take the ship, you can wait for another few years until the airport is finished. Then there will likely be frequent flights out of Cape Town and probably slightly less frequent trips from the UK.
Comments