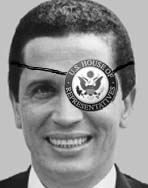 Continuing in the spirit of our post on former Mexican President Vicente Fox and his "beach house" scandal, former U.S. Representative Harold Ford Sr. (D-TN) is in the news with his own.  Among all of the controversy that has followed his son and him around over the years, this time dad's being accused of a felony.  Why?  Well, it seems that he voted in Memphis after taking a tax break allowed exclusively to Florida homesteaders, which would mean that he has changed his permanent residency from Tennessee to Florida despite not changing his voter registration.
According to Memphis's CommercialAppeal.com, Ford Sr.'s Florida residence is a $2.5-million, 2,530-square-foot house on Fisher Island in Miami Beach.  As always, ill-gotten-ill-maintained beach houses make for great stories for whatever political scandal people can dream up.
If I were Ford, I would call up Anne Coulter's FBI friend to get this accusation pulled from their inbox.  Of course, in an interview this week with the New York Observer, Ann Coulter, also of questionable residency within Florida, apparently said this:
If we took away women's right to vote, we'd never have to worry about another Democrat[ic] president. It's kind of a pipe dream. It's a personal fantasy of mine, but I don't think it's going to happen.  [Full quote here]
Why are these prominent people not taking extra care to make sure they're doing the right thing?  For now, maybe we should stick with trying to stop possible felons from voting in the wrong district, and maybe NEVER even joke about taking away the vote for any law-abiding citizens.
If Ford and Coulter are are guilty, too bad they couldn't share the same cell for a while.  THAT would be reality closed-circuit television at its finest.
Comments