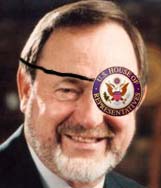 Florida real estate keeps coming back to this special section of Rapidsea, this time involving a prominent Alaskan.  Don Young has served as the only official in the U.S. House of Representatives from Alaska for almost 35 years.  In the past couple of years, more and more information has been brought forth to lead to several different investigations into possible wrongdoings according to Citizens for Responsibility and Ethics in Washington (CREW).
According to their work, in one of the investigations, he has been accused of earmarking $10 million to a Florida real estate developer, Daniel Aronoff, for highway building.  In return, this development company, allegedly, gave money to their employees to make donations to Young's campaign.  What does Florida have to do with Alaska?  This is what the Rapidsea Pirate Politician section is all about.  It's all about profiting from people's quest for personal paradise.
The point that Rapidsea is trying to bridge to in the discussion is that the source of money that leads to corruption often comes from the desire to profit from people's escapist tendencies.  Think about it.  If there hadn't been a major push into Florida real estate in the past decade, would there be as much money available for political scandals?
Besides the Florida scandal, Young also pushed for funding for what people were calling the "bridge to nowhere" for Gravina Island in Alaska where people close to him stood to profit.  Where there is a bridge for development, there is waterfront property that is now accessible.
CREW asserts that much of Rep. Young's power stemmed from his Chairmanships of two committees: the House Resources Committee from 1994-2000 and the House Transportation and Infrastructure Committee from 2000-2006.  Read a more in depth explanation about other issues he's involved in at Wikipedia also.  Don't miss the "Coconut Road" section, which is the issue talked about above.  It's delicious in its parliamentary maneuvering.
Comments