The search has been on for a while now for an image that expresses a feeling about how golf communities suck up land, dump fertilizers into watersheds, put up fences with guarded gates, and pretend that they live in rapture.  Well, today the image came in the form of a bit of ephemera from The Cliffs, a large collection of golf communities in South Carolina: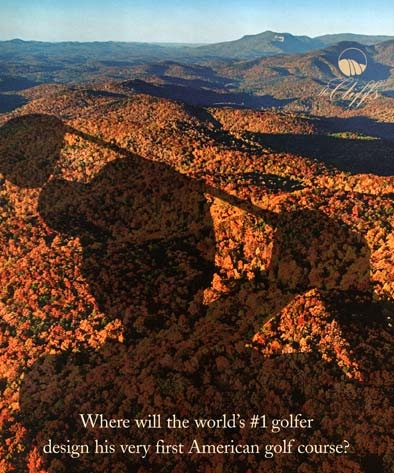 Notice how this shadow is as large as god and how it overpowers the mountains and forests.  Could they have picked a worse image to represent golf domination and exclusivity?  That is apparently Tiger Woods' shadow. 
Tiger is a phenomenal athlete, but it's worrying that he is selling out to a residential golf developer, even if it is one of the largest and most celebrated developments in the country.  And I am not completely anti-golf.  I am anti-fake-place.  Golf has a time and a place, and what it really needs is better environmental practices in the design, construction, and maintenance of the courses.  The sport could also have some social barriers removed.  Instead we have these wealthy people building up their compounds and locking people out.
It gets worse with Gary Player's quote about the community:
"The Cliffs at Mountain Park is more than a world-class golf estate… It's about lifestyle; it's about natural beauty; and more importantly it's about family.  I truly am excited about building a home at The Cliffs because they offer nothing short of an ideal way of life."
Notice that he didn't say that he was building "HIS" home, just "a home."  Because nobody with any large amount of money really wants to be overwhelmed by paradise every day of the year.  That gets boring.  It's probably why they have to keep adding courses to The Cliffs: people get bored.
Finally, to slap us around just a bit more, they also talk in the brochure about how one of the courses is surrounded by land in a conservation easement.  Don't worry, there won't be any crappy tract homes built here.  We're all safely locked inside if the world collapses around us.
Comments