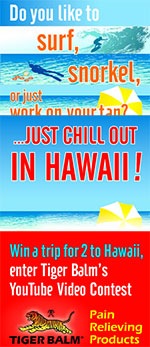 A contest that hasn't gotten too much publicity to date is the Tiger Balm YouTube contest where you are supposed to post your videos on how you get sore muscles and are fixed with Tiger Balm.  The prize for the video with the most votes is either a trip to Hawaii or $5,000 to spend at the mall.
Google's new push into creative ways of monetizing YouTube is admirable, but Tiger Balm is going to have to have a contest with a slightly more compelling prize to really call its effort a "promotion."  Because Hawaii is incredibly amazing, everybody uses trips there as the lowest common denominator of prizes for contests and sweepstakes.  Most people would love the prize, but from a business standpoint, people forget that it's a promotion.  Are you promoting if you're not standing out?
What other images could be used?  Are you misusing the wonders of YouTube?  Wouldn't it be better to tie into the fame-seeking nature of the people who will create these videos?  What kind of fame-seeking prize could you give them?  Just sitting on the beach sounds nice, but is it really a promotion?  Are teenagers your prized market for Tiger Balm?
Here's an example of the videos and contest description as posted by "tigerbalmcontest":
It's funny and all, but is it really helping Tiger Balm to stand out among the crowd.  Surely a company with name "Tiger" knows what a jungle it is to compete against other contests.
Comments