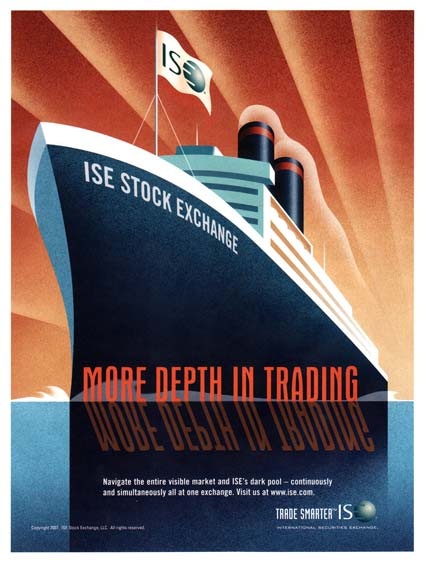 This ad is for International Securities Exchange.  The ship depicted looks like the Royal Mail Ship (RMS) Queen Elizabeth (the stacks are little off).  Unless they're referring to a deep sea vessel, it's tough to understand why they think the message of "depth" is really being portrayed here.  It looks more like a cross between an Ayn Rand book cover and a painting by a male version of Georgia O'Keefe.  Maybe they're talking about keeping the economy afloat among a deep sea of debt.
They do say that you can "Navigate the entire visible market."  Do you really want to represent your contemporary services as a 70-year-old, out-of-commission ship that probably moved at about 25 knots?  They would have been better off with a cliche 10% / 90% iceberg image.  That at least says there's depth in what you're offering.
As for other Royal Mail Ships, there is only one left in commission: the RMS Saint Helena.  It carries passengers, cargo, and of course mail to Saint Helena from ports in Cape Town, Walvis Bay, Ascension Island, Tenerife, and England.  It will likely be decommissioned within four or five years when Saint Helena's airport is finished, so be sure to take a trip on it before the airport is completed.  It's a one-of-kind traveling experience in the world.  Just don't go expecting to spend all your time on the beach under an umbrella in the sun.  There are no beaches.
Comments