If you're a staunch animal rights supporter, you may be appalled by this image: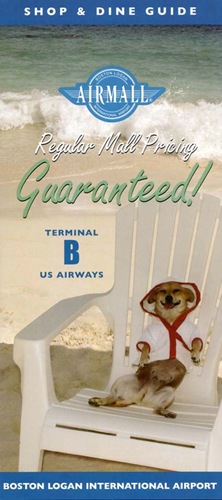 But come on, despite the anthropomorphism and beach overkill, this dog is cute.  What's strange is that this is a "Shop & Dine Guide," but spends two folds of the brochure talking about tips for traveling with your pet.
And even though they say that the prices of the monopolistic spaces are the same prices as the "regular mall," I'm still not going to buy a Palm at the Airport Wireless store in the terminal there:

Notice the palm tree antenna?  Why "Palm," Palm?
Comments