Comedy Central has been airing a four-day "Thanxgiveaway Wiikend" promotion with the chance to win a Scion xD and a Nintendo.  If you visit their Thanxgiveaway site, you'll be greeted by this surfing Turkey: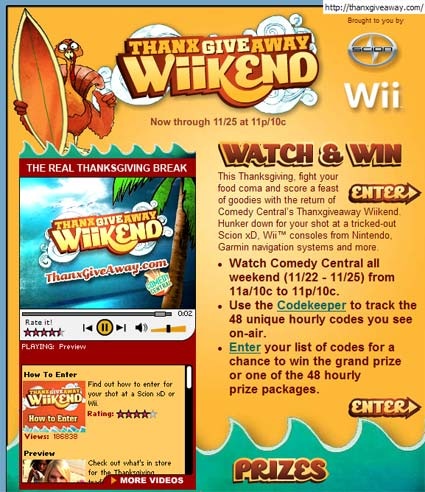 At first glance there doesn't seem to be any reason behind giving the turkey a surfboard.  None of the prizes that they're giving away have anything to do with the beach or surfing really.  Then they throw into the mix this idea that there's a "Real Thanksgiving Break" with a bunch of a semi-slow college guys pretending to be on a fall holiday "Spring Break."  At least they took the Wii-jacked Scion xD along with them in the beach parking lot.
There's a bunch of mini commercials that you can watch for the giveaway that have a storyline about the guys hooking up.  They end up meeting some girls and one of the guys ends up making out with one of the girl's moms in the back of the Scion.  Take your unfunny cliche list with you and get ready to make some notches in it.
There seems to be two themes going on here.  They should have skipped the contest and just focused on joking more about taking a beach trip during hurricane season.
Comments