By far the most realistic virtual island ever created for mass production is coming out on November 14, 2007, in the form of the game Crysis developed by Crytek and distributed through Electronic Arts.  Here's the box art: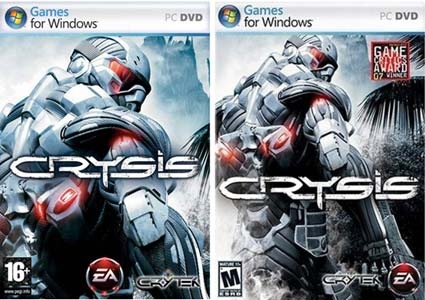 Notice the changes to the newer box on the right.  First off, there's the obvious Game Critics Award logo, but then notice how they are also offering a wider view of both the "nano muscle suit" and the palm leaf.  They had to make sure that everyone knew that there is a new warrior here to save this paradise.
If you want an example of the how realistic the game is, click here and scroll down half way until you can click on the Real-Life vs. Crysis grid of images.
The box art and trailer are available here at Amazon.
Thank you Hawaii for providing the model for the most authentic imaginary land yet to be electrified through liquid crystals.  Where else but in your own home can you battle against both alien creatures and North Koreans?  Whither humanity?
Comments