If you're at all interested in Dubai, you may want to pick up a copy of the November 2007 issue of Metropolis magazine.  The issue is easy to find; it has a huge skyscraper on it, the Burj Dubai: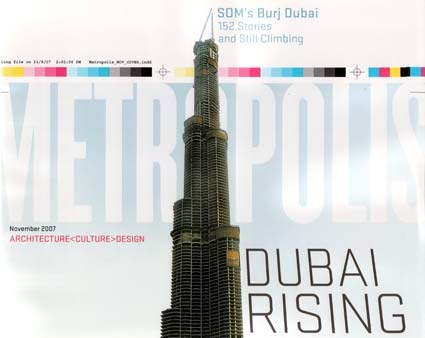 The cover design is great.  It shows the printer's marks at the top to illustrate that the building is so large, and still growing, that it can't quite fit.
The article inside provides a positive but not un-critical look at Dubai.  It starts out with a little bit of New-York centrism:
"Fifty years from now, New York will be considered the economic and cultural capital of the previous century, filled with quaint artifacts of nostalgia, but not the center of world culture — somewhat like how we think of Paris today compared to 100 years ago.  Federal immigration restrictions, the religious police, and the protection of large corporations from foreign competition will have cut off our biggest sources of wealth — invention and innovation — and historic preservation will have saved the unique character of neighborhoods and conserved innumerable buildings but killed the spirit that made the city the greatest of its time."
Why wouldn't an article about Dubai start about its relationship to New York?  But giving up on New York so quickly?  At least they realize that they aren't the only city in the world.  Then it goes into why Dubai is on its way up:
"The megacity of Dubai, one of the seven federal states of the United Arab Emirates, will be the new economic and cultural capital of the world, spanning its neighboring emirates of Abu Dhabi, Sharjah, and beyond in one urbanized mass, rich in the biggest source of renewable energy — sunlight — a pioneer in sustainability and new technology, and conveniently located within easy travel distance of a population of more than two billion…"
There are your teasers.  The article is by Stephen Zacks and is called "Beyond the Spectacle."  It's a good overview of what is happening and worth a read, especially for the notable skyscrapers spread at the end of it.
Comments