While a few economists argue that giving food and aid to poor countries may actually flood the markets and dampen prices, thus restraining economic development, I'm going to err on the side that giving a little is still better than not giving at all.  Tonight I found an easy way to give through a site called FreeRice.com, which tests you on vocabulary and then gives away free rice when you get words correct.
Why would I use this site as our 250th post?  Well, because the word "paradisiacal" popped up in my test, and I disagree somewhat with the "correct" definition as "utopian."  See here: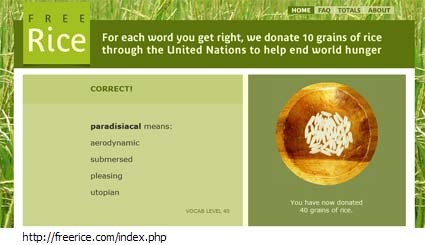 "Utopia" seems some much more impracticable than "paradise."  Of course, I chose "utopian" in the end (and gave away 10 extra grains), but I kind of liked the word "submersed" better since that's how I feel with respect to all the paradisiacal things around us every day.  There have been at least 250 of them discussed just since the beginning of this blog.  But I guess, too, that these images are so "pleasing" that they fly aerodynamically past us everyday without really registering.
The test works somewhat like the computerized GRE, wherein it attempts to determine early on how smart you are then hones in from there on words that (should) challenge you.  I gave away over 200 grains of rice before giving up.
Apparently, they pay for the rice by exposing you to a row of advertisers just below the test.  Check it out here at FreeRice.com.
Comments