I had the privilege of going with my nieces and nephew on their first trip to the ocean, and the experience left little doubt as to why our love of the oceans pervades so many areas of our lives.  It's often the first memory many of us have of really feeling so overwhelmed by existence, but with the chance to push and flirt with the power of nature.  Maybe it's also the first time you realize that you actually are a part of nature.
Today I'm in the process of flying to be with my family for Thanksgiving.  This lightboard ad from Make-A-Wish was in an airport I'm flying through: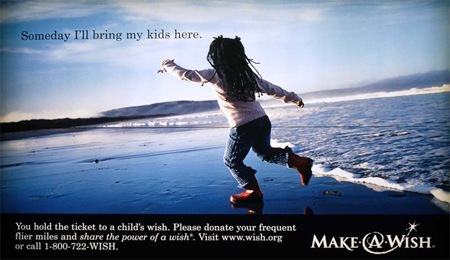 You get a sense that this little girl is having that same first-time feeling.  I wonder if she is a model or an actual recipient of a Make-A-Wish gift.  When you think that she might have a serious illness, it distorts your whole sense of what the moment should feel like.  Is it sweeter or harder?
If nothing else, they captured the spirit.  I like that they didn't make this look like it's a tropical beach escape.  It could be so many different coasts.  She looks totally alive.  If you're interested, you can find out about donating miles to Make-A-Wish at this site.
My trip today is one of the more difficult trips home because my mom was just diagnosed with cancer, so we're beginning that process.  We're probably lucky because her prospects for recovery are good, but it's one of those moments like going to the ocean the first time that make you feel very powerless, even though your emotions are more acute and the sweet things seem sweeter.
It's amazing too when you tell people that you're working through the serious illness of a loved one because you suddenly realize that everybody around you has been touched by similar life events.  Everybody is so supportive because they have been there too.  I'm thankful for these people.
I hope you all travel safely this week, even if it's down the stairs to the table.  Thanks for reading the wild wave that has become Rapidsea.
Comments