Pepsi and their ad agency BBDO Germany GmbH of Dusseldorf have won the Epica d'Or Outdoor award among European advertisers. They won in part because of this surf wave logo image as part of their "Dare for More" campaign: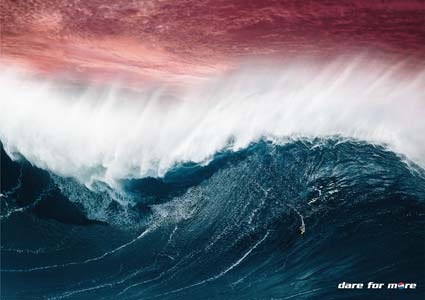 At first I wanted to cry to think that they had won for this ad alone (thanks in part to Creativity Online choosing this sole image to showcase the winner's wares), but there are actually a whole series of them. As you look at them, notice the grand scale of nature from the perspective of the people enjoying her extremes. Here's a snowboarder (i.e., snow surfer):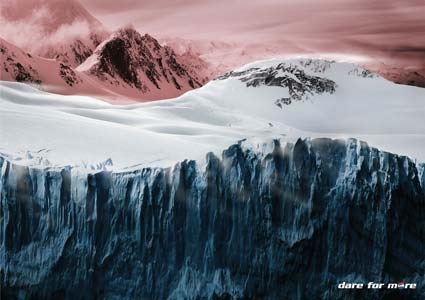 This next one is reminiscent of the "Island in the Sky" and the view of the Washer Woman Arch at Canyonlands National Park in Utah. See the climber: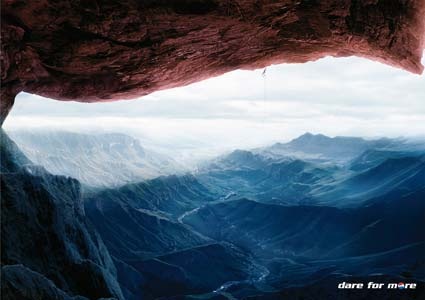 I think it was inspired by Canyonlands because you have the angle of the arch there on the left and also the concept of the river cutting through the rock in the background. Rock climbing is also something that you'll find a lot of in the Moab area of Utah.
And look at the climber. The scale is off. The longest natural arch in the world, Landscape Arch in Utah's Arches National Park, will hold about 50 average-size men head-to-toe across its 290-foot (88m) span. The one depicted above would probably hold about that many in just the span shown, and if it extends too far off to the right, the weight of its rock would probably bring it down. Unless my scale is off here, they're projecting an arch that is about twice as big as Kolob Arch in Zion National Park! Here it is from the Wikimedia Commons:
While these ads are cool looking — and will surely get a lot of attention — I don't think that implanting their logos into fake nature is any great stretch of creativity. Budweiser did it with their Select brand and its escape to paradise commercial. Like this new Pepsi collection, it was interesting, but not earthquakingly amazing.
There's also the issue of the fake nature itself. They didn't need to use a ton of Photoshop to re-scale these places and people to modify reality. Changing the colors to suit the logo is acceptable, but surely there are places in nature that conform to that shape.
For example, there was recently an image of photographs taken by Lisa Rienermann from street level looking up at buildings to form the alphabet (see page 3). It's called Type the Sky, and the letters don't seem to have been manipulated in Photoshop to get them to look right. She just sees the world differently than the Pepsi ad folks who needed cliches to make their point. [UPDATE: Apparently, there was some Photoshopping in this series. *Sigh*]
For Pepsi to win an "Outdoor" award for a campaign that couldn't be further from nature is disappointing. I guess the surf wave isn't as bad as the apparent Pacific Ocean wave that The Atlantic used on the cover of there 150th anniversary issue. In any event, they should all dare for more creativity.
Here's the info from the Epica Awards Results Page:
Pepsi, "Dare for More" Campaign
Agency: BBDO Germany GmbH, Duesseldorf
Creative Directors: Veikko Hille, Sebastian Hardieck, Toygar Bazarkaya
Copywriter: Christopher Neumann
Art Director: Michael Plueckhahn
Art Buying: Birgit Paulat
Production company: Stefan Kranefeld Imaging
Account Executives: Heike Flottmann, Annika Lauhoefer
Also, here's a complete list of winners (.pdf).
NOTE: At the time of publishing this post, the file names of the "climber" and "boarder" images was reversed. Epica might correct this flaw, so click on the other image if it links to the wrong one upon first click, or start at the results page above.
Comments