Philips Norelco is using not just the beach to advertise their body hair trimming products, but they have even gone as far as saying that their shavers can give you an extra "optical inch." Yes, just like the email spam you get.
If you have followed the other Rapidsea posts on hairless dudes for our beaches, this one tops them all. And it's not even about their National Geographic contest where you can win a trip to Belize or the Galápagos Islands.
When I came across the site ShaveEverywhere.com, I was ready to go off and give Philips Norelco a large amount of praise for being able to market their men's shaving gear without using the beach. I thought that it was effective and memorable, making us laugh about the topics that not many people want to talk about. It wasn't quite as in your face as the Remington beach back shave or as over-designed as Braun's CruZer. The Philips humor embarrasses you just enough to want to buy their product — in the beginning.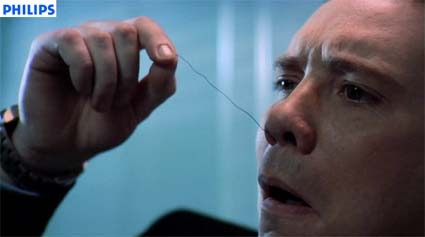 The site starts out with a joke about "second puberty" when a man nearing middle age looks in the mirror to discover a single extraordinarily long and disconcerting nose hair. His father who is waiting outside of the bathroom reassures him that it's perfectly normal. His son is just going through "second puberty."
The opening video and the "second puberty" flash brochure with more videos are funny and effective, so how can you not help but want to click on the "Body" button at the bottom to see what they can do for other hairful parts.
This side of the site veers off course from the original "second puberty" theme and actually takes on a much more uncomfortably funny tone for shaving your nether regions. *BEEPS* are place throughout to make you aware that they're breaking a whole lot of social rules bringing the information to you. You can watch a music video and even hear about the history of how a guy named "Sack" saved the beaches with early hair-removing inventions that were only later perfected by Philips with their Bodygroom product. See the hairy beach hunks of yesteryear that he helped out: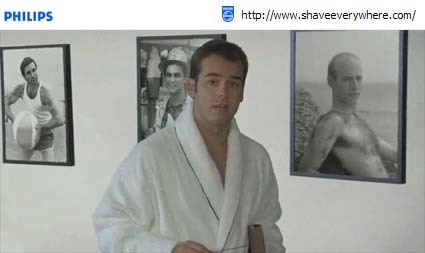 Here's one of the bold quotes from this video: "Before the Philips Bodygroom dazzled us with its powerful pube-busting performance, America's beaches were a dark foreboding place."
If you roll back over the "Menu" option on the lower left-hand side, you will find an option that is atypical for everyday consumer sites: an "optical inch" menu item. Yes, apparently they blew right past the beach in their advertising to actually attempt to sell their product as a "tool aggrandizement tool" (how else can you say this without getting this enlightening post marked as total spam?). See: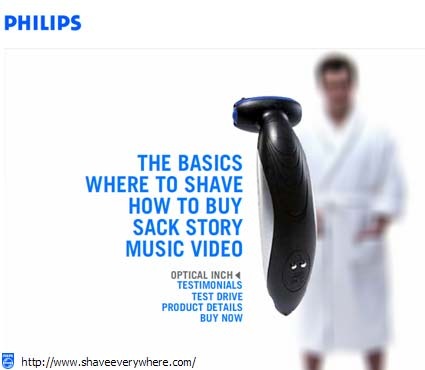 And in the end, if you're still not convinced that the Philips Bodygroom is the best tool to get you to the beach to get a woman to get you laid, then you can at least spend time carving topiaries: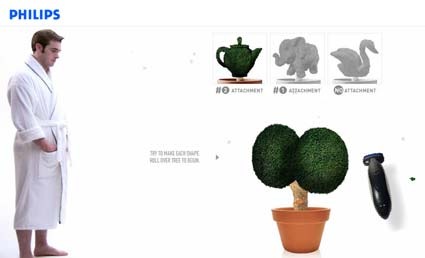 Yes, you are supposed to sculpt that teapot or elephant, but what you get is something entirely different. Uncomfortable?
So, from a successful "Second Puberty" campaign to an uncomfortable overload of beaches and "tool aggrandizement tools," Philips jumps the Remington shaver shark and sends us home feeling like the marketers have yet again overexposed us to our humanity.
NOTE: Rapidsea was not paid by any of the above-mentioned companies to write this post.
Comments