We already posted the worst print ad of 2007, and the year is winding down further.  Even though there is still a month left, it seems like a great time to crown Rapidsea's over-the-top TV commercial of the year.  There's just no way that something crazier will come along.  According to the commercial, "Herbal Essences brings us another great escape."  Watch it here:
Hello Hydration's theme is so out there and weird that it deserves to put under the microscope of mutiny scrutiny.  It contains "mind-bending coconut and exotic orchid" for "hair that's miraculously moisturized."  What kind of product would purport to have a beneficial ingredient in the form of a rare flower?  Can you even imagine smashing one of those up for your hair?  And of all the smells you can put on your body, coconut is the one to avoid.  Who wants to smell like last night's fruity slushy beverage?  A lot apparently if their marketing research is on.
Then there's the symbolism in the commercial.  The desert oasis is wild and religious.  The guy that comes riding out of the water in front of the dancing palm trees has only one saving grace: the seahorse, one of the only animals that the males get pregnant and have the babies.
It's a wild ride on an emergency-brake camel.  Who thinks this stuff up?  Okay, so I laughed at the camel in sneakers.
If you want more, be sure to check out Escape to Luscious where you will see this ridiculous oasis escape: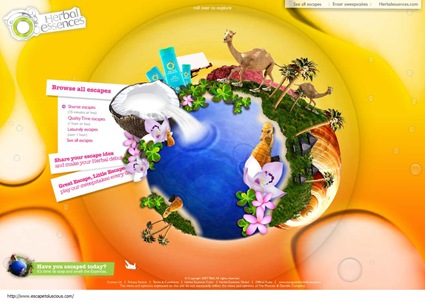 Amazing?  Yes.
Comments