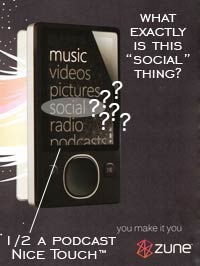 The new Zune models will likely fail upon their release November 13th.  This prediction is based on a new Microsoft ad, which is a single mega-multi-pager in the November issue of Complex magazine (pages 47 ~ 51). It's 5 pages of colors unseen since your college gutter fiasco.  First up, we see that the Zune will house "music, videos, pictures, social, radio," and half of your podcasts.  Okay, so we understand why you cut off "podcasts," but how exactly can the Zune hold "social"?  Is it a little church?  Will there be ice cream?
If you look to the left of the Zune there, you'll notice fire and energy spilling out.  The next two images are a part of that explosion of Zune contents.  The following piece of the ad shows the escape that the Zune will take us on way up to the clouds to a rainbow special place: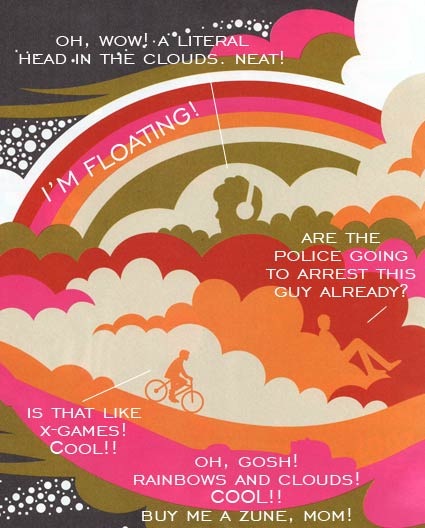 Now for the happy couples on the next page: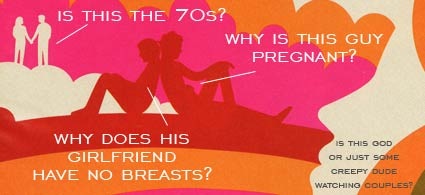 You iPhone owners are still trying to figure out what this "social" thing means as a noun, aren't you?  Will there be cookies?
Well, no matter, let's jump ahead and compare this with a still from Apple's beautiful "Island" commercial: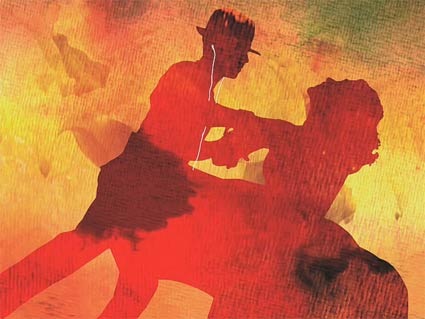 Notice the layers, textures, action, passion, and MOST IMPORTANTLY the product?  Add to that the actual music and the other scenes that are in the full commercial and you have a winner.  I don't even care that it's called "Island" and has palm trees because, you know what, it's about island music and the iPods can actually play authentic island music really well.  I, of course, have the Starbucks surf music cd on my iPhone, which isn't great but sounds good.
Microsoft, please please please hire some people who can see ideas, not just shapes.  Surely with billions in cash you can give Apple a run for their money.
In the meantime, maybe someone should write to Steve Jobs to tell him about this "social" thing.  Except that we would get a cease and desist letter back from their lawyers.
RELATED POSTS: Zune mistakes itself for an iPod Touch and Academy of Dreams ~ Finally, a good Zune commercial!
Comments