I may have finally found a slight exception to the rule that chocolate is the one product that isn't advertised with paradise, even though it's usually grown there: holiday chocolate oranges.
It's only a "slight" exception in that you don't really think about about the traditional chocolate orange that appears in the run up to Christmas as something tropical; it's a ball of chocolate that your uncle smashes on his forehead to open up.
If you're like me, you don't really even think about it being all that citrusy either.  Maybe because orange is a fruit, a color, and a "color-flavor" (like "red" lollipops).  Anyway, I came across a whole bin of these sweets at the grocery store: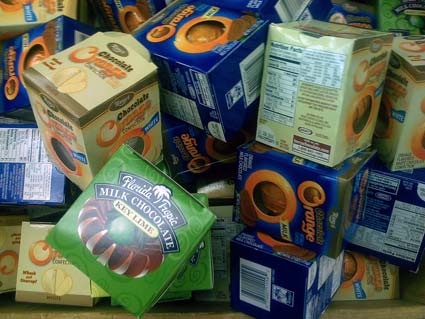 Most of you are probably aware of the Terry's Chocolate Oranges (there in the blue box with orange writing), but the Florida Tropic Key Lime flavors, among others from the same company, were new to me this year.  The palm tree logo was, of course, the attraction that sent me down this blog post path.
Given the number of orange groves in the state of Florida, you might think that Florida Tropic is an actual Florida copy-cat product of Terry's, but in a way it isn't.  The Terry's oranges actually originated in the United Kingdom, starting out as an "apple" in the 1920s.  Only later on did an orange version emerge and overtake the apple one, which was later phased out in the 50s.
In the 20s and 30s, there were many images spinning around the world of warm far-off places in the first half of the 20th century that sort of set the stage going past WWII into the 50s and beyond to today.  Oranges were no doubt a symbol at that point in time of a warmer paradise, and in chocolate form, you could have them year round.
The UK production of the oranges disappeared when Kraft Foods recently bought out Terry's.  They closed the UK plant and sent production to continental Europe.  However, the UK apparently still loves the things, and they're certainly popular in the States as well.
While the Florida Tropic chocolate "oranges" appear to be real live Florida products, Kraft couldn't be left out of the excitement of the beach.  If you follow this link to their UK confectionary brands page, you'll see this very happy little girl: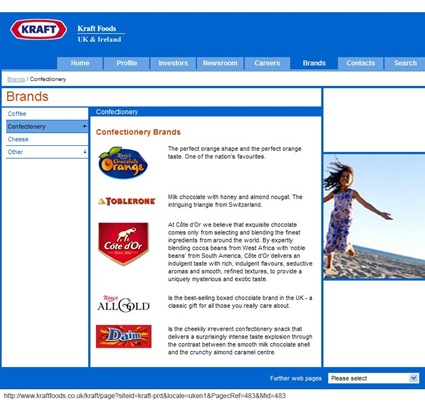 That's a Christmas-morning-on-the-beach face if I've ever seen one.  Is it any wonder why over 50% of the UK thinks a beach home is the ideal escape?
Comments