Oh, you clever Liz Claiborne advertisers.  You thought you'd be really creative with a vintage paradise ad that points out to Complex readers that paradise imagery is ubiquitous and cheesy (click to enlarge):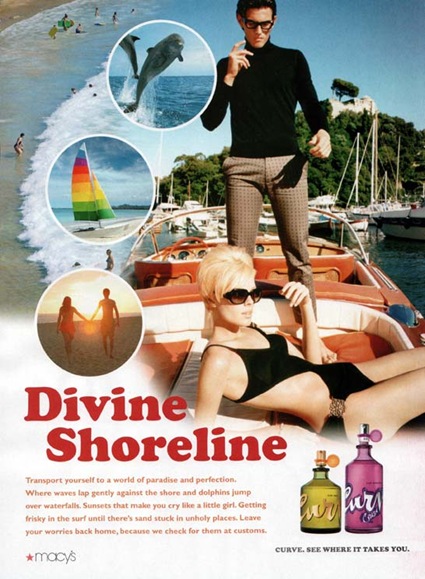 In the end you proved that there's little creative about mocking a cliche even though you're one step ahead in knowing that it exists.  Although, I will admit that parts of the ad copy are amusing:
"Transport yourself to a world of paradise and perfection.  Where waves lap gently against the shore and dolphins jump over waterfalls.  Sunsets that make you cry like a little girl.  Getting frisky in the surf until there's sand stuck in unholy places.  Leave your worries back home, because we check for them at customs."
The only thing really remarkable about this ad is what appears to be vintage mahogany speedboats that made me think of the spiffed out USPS postage stamps.
You probably wouldn't have gotten a low pass on this assignment if you hadn't given your male model camel toe.  Maybe you should call up your friends at Herbal Essences and ask one of their camels to spare a pair of his sneakers.  Unless it's just some sand in an unholy place, then maybe it's time to cleanse your vintage self.
Comments