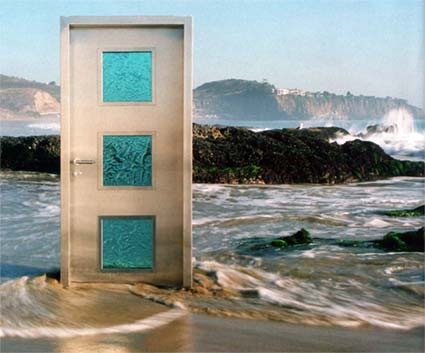 The world stands mesmerized by a stainless steel door with ocean-sapphire glass that appeared mysteriously on a beach in California this morning. Local surf legend Bobby Miller was the first to see the door. He revealed his discovery to two of his fellow surfers who contacted local authorities.
They stood in awe at what they considered to be a magic door. "We'll call him Neo," they agreed after seeing that is was branded as a "Neoporte" door.
Before authorities could arrive, Mr. Miller made an attempt to walk through the door. "I pushed down on the handle and opened the door, and just as I started walking through, expecting spiritual transformation of course, the door fell over," he recalled. "That thing was heavy. I almost got hurt," he added.
Upon hearing the news on KNBC, Jennifer Aniston called in to inform everyone that it was her door, the last thing left standing after her house burned down from the recent fires. "I want to help the people of New Orleans in any way I can, even if it is just from the inspiration of the survival of my spirit and one tough door."
News of the "last door standing" spread quickly to England where Madonna, in an apparent attempt not to be outdone by Brad Pitt and Angelina Jolie, contacted the Federal Emergency Management Agency encouraging them to install Neoporte's $48,925 model in each of the houses built with the aid of Brad and Angelina for New Orleans' Hurricane Katrina survivors.
R. David Paulison, FEMA Administrator, declined to comment, but rumors were spreading that there was a chance they could fund the costly project if the right donors could be found going into 2008. He did like the company's name.
Angelina, often referred to as "mother to the world," responded: "Don't be silly. We cannot afford such expensive doors when we could use the money better in other ways. The $6,000 model will do just fine."
Aniston's story has not yet been corroborated, as her home was apparently nowhere near where the door was found. But she stressed her commitment to Brad's initiative.
The origins of the door remain a mystery, even though some suspect that it was a publicity stunt by Santa Monica door manufacturer Neoporte Modern Door.
The company recently announced a price increase for their "entry systems" effective January 1, 2008.
In all seriousness, we should Make it Right for New Orleans.
Click for the full ad: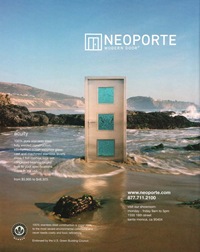 Comments