Paradise retirement images range from the literal beach ads, like this T. Rowe Price one, to this very subtle Charles Schwab colors-only ad: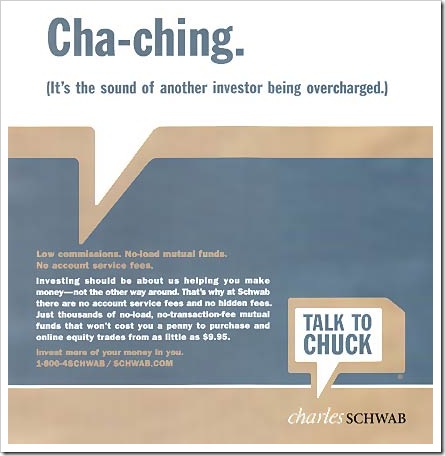 You have the beach, ocean, and clouds here — all in one otherwise hidden image.  The same colors were later adapted and added to other ads.  For example, there is this one for their banking services: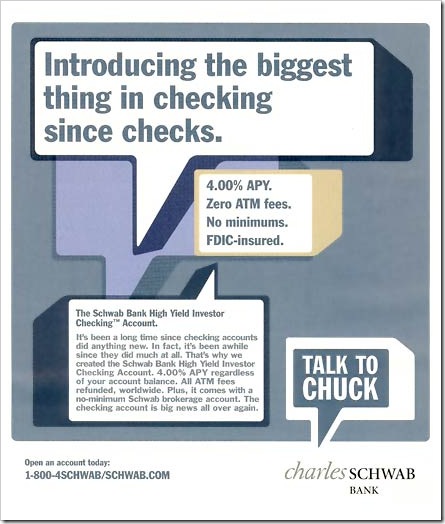 This one returns a bit from the beach browns to more corporate blues.
The "Talk to Chuck" campaign moved fast and was in magazines, on billboards, and on television before anybody knew what happened.  Other financial services companies followed suit with similar blocks of color and allusions to ideal places (click to enlarge):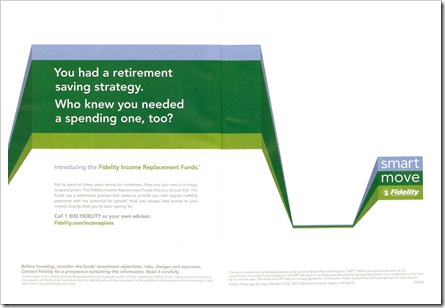 Here you can see a recent ad with more of a green grass meadow and blue sky by Fidelity.  But what does it mean?  This one is the abstract equivalent of Northwestern Mutual Early Retirement "Wreck Your Worries" website from early 2007 where you could write down your worry and then obliterate it with things like golf balls, lightning bolts, and wrecking balls (click to enlarge):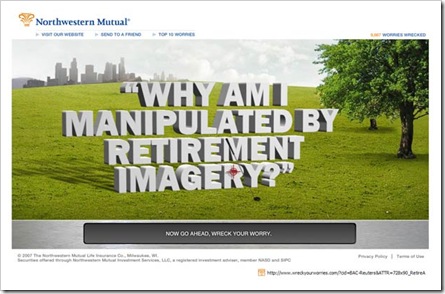 And even before the brand new T. Rowe Price actual beach ad, they followed behind Charles Schwab's "Talk to Chuck" campaign with almost identical colors in this ad from April 2007 (click to enlarge):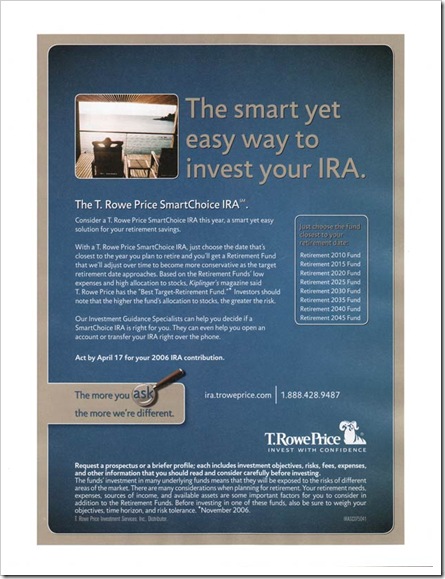 The difference here is that they took the colors and the beach house and pieced them into one ad.
Each of these companies is telling us the same thing with these images.  Wouldn't you think that they would want to stand out among their peers?  This example is just within retirement financial services.  The images pervade just about every other part of our lives, always trying to convince us that what we have now is not adequate.  More.  More.  More.
Comments