Hours of conversation are possible on the topic of retirement, especially where images of paradise are concerned.  We are programmed throughout life by images that tell us that at some point in our lives we're supposed to stop working and start relaxing, and if we can start relaxing on the beach, we'll be more fulfilled.
This point is shown time and time again in magazines and ads for retirement financial services.  Here's a double-page T. Rowe Price retirement ad from the inside front cover of Money magazine's December 2007 issue (click to enlarge):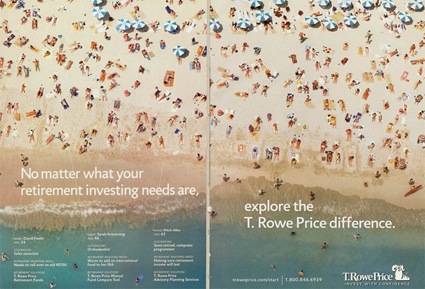 The word "retirement" itself labels a large percentage of our lives based on our relationship to a lifetime of work.  Surely our lives are about more than work.
Often times, these companies don't even really pay attention to the images that they're putting up (remember the Lending Tree loan shark?).  If you examine this image more carefully, you notice a whole host of things that we the ad targets are exposed to, at least subliminally (click to enlarge):
Who are these people?  Well, you have the following: A is apparently the beach's bikini-wearing crack dealer; B is a woman who the ad says is named "David Foster"; C is a man by the name of "Sarah Armstrong"; D is a the world famous Hollywood stuntman around whom they trace chalk outlines for TV and film; the man at E-left sure can't take his eyes off of E-right, but who knows where his own companion went (shE-left?); F is Jack Black as Nacho Libre; G apparently doesn't believe in hear no evil; H is the only guy on the beach who realizes that he's in an overhead photography retirement ad; and I is a guy that can't figure out if the itch came from the sun, the beach, or last night's post-club adventures.
There is more to the last part of life than retirement, but these financial services companies require us to have goals like beach houses to carry their services into your golden years.  Even labeling your latter years in this way seems to predispose you to believing that you don't have that much longer to live.  Could this observation actually be shortening our lives by our own choice?
Yet, we know here at Rapidsea that these images are only pushing a lifestyle that is spatially unattainable by the hundreds of millions of people that view it as the ideal way to live.
Admittedly, the ad is successful in that it makes you want to examine each person on the beach.  It's like a stationary people-watching version of the Google Earth Bikinis from Space at Bondi Beach mentioned in this post.  The image in the ad might actually be Bondi.  There are several clues that might tell either way: the row of identical umbrellas (is there a resort near this beach?), the beach mats, all the white people, the water color and clarity, and the relative lack of surfboards (although it could just be a slow surf day).
Comments