Fortune has spiced up this year's "The 100 Best Companies to Work For" with lots of escape and scuba.  Even the start of the article on page 61 of the February 4, 2008, issue opens with a profile of, well, not the number one company (Google) but instead with number 88!  Woo hoo!!  Number 88, you rock!  Way to get profiled first.  But why?  Well, it's paradise, silly.  See the big Maui club photo at the Four Seasons from the "A perfect season" sub-article: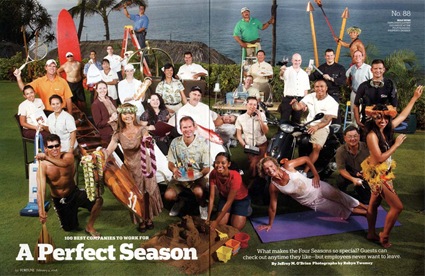 This is what it's like to work for ALL of the top 100 firms?!  Wow!  Or is this just at the Four Seasons?  Does life seems to suck a little more for you too(unless you work there)?
Don't get me wrong.  The Four Seasons hotels are fantastic, although I don't necessarily think of their tropical destinations first.  And, hey, Fortune's gotta sell magazines. So why not choose Maui as an image starting off all 100 companies?
But it doesn't stop there, even the online segment called "Unusual Perks" starts out with the first of fifteen mini profiles, featuring company number 61, Chesapeake Energy Corp.:
Yup, they offer scuba classes at their Olympic-sized pool.  Do they get to leave the pool and head to the Chesapeake Bay when they're done with their courses?  No, the company is located in Oklahoma.
Is this what has become of corporate America?  We are so programmed for happiness — and especially the beach version of it.
They canceled Business 2.0 magazine and gave me HALF of the number of remaining issues in Fortune.  What a bummer.  Can't wait for it to end.
Comments