Product ads with paradise settings come along every day. Often times, I'm left wondering if the image is a statement about where the product or service can take you or if the people doing the advertising are hoping that your purchasing the product or service will afford them the lifestyle they depict. The LapDome is one of those products.
It's a little tent for your laptop that shields it from the glare of the sun — and probably some chlorinated pool water too (from their website):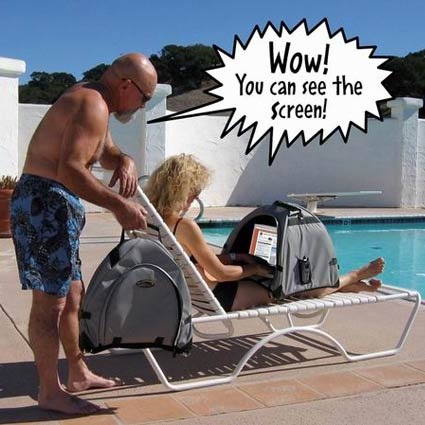 This is one of those creations that you can see probably has a market out there. If I were a kid, I would totally have my dad buy this thing so that I could have a miniature tent. (Didn't you ever covet those tiny tent models at the sporting goods store used to show off the larger versions?)
But would happen to those who lug this little monster around on vacation with them? What's the point of even going on vacation if you have to sit there with your computer? Do your work inside and then get out there and enjoy yourself.
This little guy costs $79.95. The LVMH version is probably on its way soon too.
Comments