A few years ago, while on a scuba-diving trip to the Red Sea, I looked at a friend of mine who was sunbathing and told her that you could make a killing promoting "Coral-Safe Sunblock."  She freaked at me because she wasn't wearing any.  Then she suddenly realized that no such product existed.  I looked her and said, "See, I'm right!"
Well, my premonition was right about the unsafe effects of sunscreen on coral.  It's bad, according to National Geographic.  The chemicals create a bleaching effect according to the article's author Ker Than: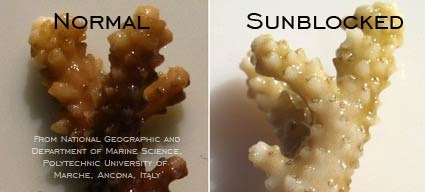 The whole article is really worth a read and contains the full size and quality photo.  It refers to the January 3, 2008, study "Sunscreens Cause Coral Bleaching by Promoting Viral Infections" (by Danovaro, Bongiorni, Corinaldesi, Gionvannelli, Damiani, Astolfi, Greci, and Pusceddu) from Environmental Health Perspectives.
If you don't have time to read all of this info, the study's abstract "Results" section says:
"Sunscreens cause the rapid and complete bleaching of hard corals, even at extremely low concentrations. The effect of sunscreens is due to organic UV filters, which are able to induce the lytic viral cycle in symbiotic zooxanthellae with latent infections."
In other words, the sun keeps the viruses from growing and exploding the algae surrounding the coral, creating danger for up to 10% of coral reefs.
It's only a matter of time before labels will begin appearing on sunscreen bottles, like "Dolphin-Safe Tuna."  You see, coral is an honorary "cute animal."  You can't hurt it or else you're going to have a wave of angry people coming at you.  Copper Tone and Hawaiian Tropic, you better get ready for the demands coming your way.
Comments