Stories of the world's largest swimming pool in Algarrobo, Chile have been floating around the Internet for months now, but the Daily Mail has published an article with several enlarged pictures that are worth a look.  To give you a preview of just how large it is, well, here's a picture from Reuters: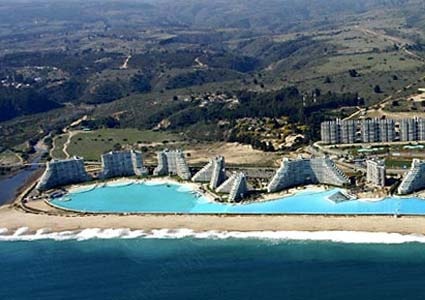 This is literally only the half of it.  The worst part about this saltwater pool is that it happens to be next to an even bigger saltwater pool: the ocean.
Did I mention that it's about 3,500 ft (yes, over 1 km) in length?  It's called the San Alfonso del Mar seawater pool.
Here's the view from space:
I predict that the sand on the accompanying beaches will erode and need to be replenished down the road.
Comments