In my rage against sports Crocs in August of last year, I predicted that Havaianas Zori-style sandals would likely to become the summer footwear of choice this year.  The company is certainly slowly pushing their way into the market.  This ad is from the March 2008 issue of Complex: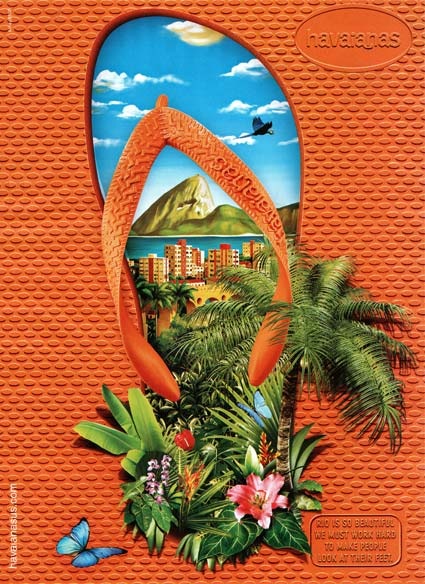 They've got the palm trees, flowers, and butterflies all ready to go for us.  If you follow the logic behind their slogan at the bottom there, "Rio is so beautiful we must work hard to make people look at their feet," you might end up thinking that you'll feel like you're walking through the coastal underbrush just by putting these on your feet.
Rumors of models wearing the footwear have certainly been floating around for a couple of years, but the critical mass seems to now be building.  The trendy push certainly doesn't stop with a palmy ad in an obscure magazine.  In the summer of 2007, the company made a deal with W Hotels also to offer a discount coupon for the flip flops with each room key card (at least in the Seattle).  I guess they assumed that trend setters are more likely to stay at the W.
One of the issues holding the company back I think is that the flip flops are too inexpensive.  You can pick up a pair for around $15.  If they tripled the price, which they have done on certain models, I'll bet they'd sale more.  Think, for example, about how many people were running around talking about Rainbows two years ago, before Crocs were even evicted from certain hospitals.
Hell, if they put a $75 price tag on some of them, every girl in Nantucket will have them on her feet.  They should also erase the "rubber" tag in "World's Best Rubber Flip Flops," even though they have almost a 50-year-old secret rubber recipe.
One thing that they've got going for them is this obscure name, which is meant to be "Hawaiians" in Portuguese, but to some might look more like Havana.  With Fidel Castro stepping down this week, there could be a hidden movement they could tie into, maybe even introducing a sub-brand with a Cuban flair.
Comments