The Harvard Business School has launched a new program called "HBS 2+2″ in which undergraduates in their third year apply for admission into the two-year MBA program. The students must first work for two years prior to making their way to the Boston campus.
You may have already seen this ad with the repetitive Crimson folding chair popping up around the Internet:

This ad popped up at Thesaurus.com.
What's Rapidsea remarkable about this program you ask? Well, They provide a four-year timeline to describe the program, which includes this four-season Flash graphic: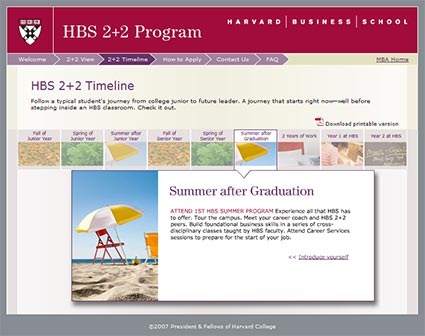 Summer is, of course, represented as a stock photo day at the beach, even though that Crimson chair pops up in each of the seasons. If you're in the Southern Hemisphere you might not necessarily think of the same images when you see these photos. But don't worry. You're not really going to be spending that much time at the beach.
There are two important points about this image and the HBS program:
1) You will never have to sit in a chair that uncomfortable if you get into HBS. The school has one of the most extravagant campuses you will ever see.
2) While you might get some beach time in the first summer (before graduation), there will not be much beach time in the summer after graduation, as you will be at HBS.
Dare I say that this is a cheap attempt at attracting top talent to the HBS MBA program early on while still making students go through the awkward, but essential, first two years out of college?
Okay, let's give Harvard some credit that maybe they are truly trying to help people see their own light before coming to B-school — very much against the alarming trend of students' wanting to go to grad school directly out of college. After all, Harvard has always pushed for students to learn about the world (and themselves) before delving into technical fields like business.
Unless you're hell bent on going into a specific area of business that a Harvard MBA will help to propel you into, I say to hell with early B-school decisions. If you're not sure, don't lock yourself down too soon. First, go off and really explore who you want to be. Grad school should be your time to invest in your passion and to truly dictate the direction you want to take in life. Don't just wander in without knowing who you are.
Remember that if you're capable of even getting in now, you'll most likely be capable of getting in later.
Comments