Nothing says "urban street wear" like a bunch of cliche exotic animals in an ad: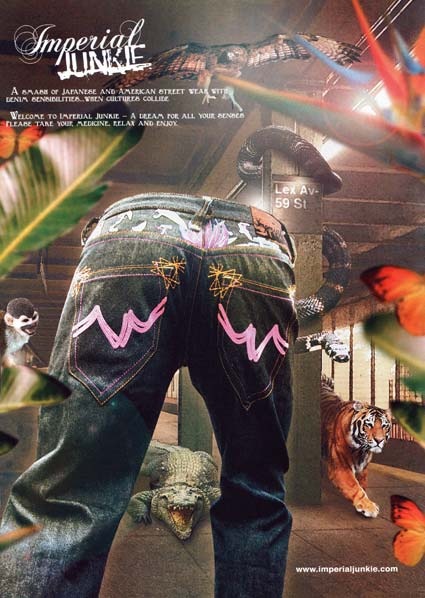 I'm in the bayou.  Oh wait, maybe it's the jungle.  Or am I in a meadow with my butterfly net?  I'm floating like an imperial junkie.
Ouch!!  The monkey bit me.  Am I wearing women's jeans?  Oh, look, a pretty Bird of Paradise flower.
The cut on these jeans is nice.  I also like the touch of pink, but it's really not clear whether these jeans are snake or flower, urban or jungle, Midtown or the Upper East Side (or Virginia Beach).  What gives?
The copy reads: "A smash of Japanese and American street wear with denim sensibilities… When cultures collide  Welcome to Imperial Junkie — a denim for all your senses Please take your medicine, relax and enjoy"
Ad fail.  Unremarkable.  There is supposed to be some Japanese influence buried in these jeans according to their website, but unlike the Zori-inspired Havaianas, it just doesn't show through well.
This one is from Complex February/March 2008.
Comments