Protesters in Berkeley are dressed in pink and taking on the Marines.  One poster that appeared on the street was photographed by Jim Castel.  He caught some of the anti-military mood in this very successful picture that probably won't be used as a recruitment image by the military anytime soon: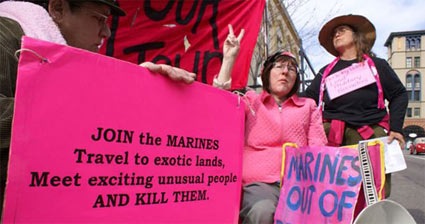 This image pushes us back to the escapist times of "FTA," the slogan the Army used to promote "Fun, Travel, and Adventure," which was later pushed around among GIs as "F**K The Army" (and picked up by Jane Fonda and other notable anti-war protesters).
It seems that any escapist military recruitment has the potential to backfire.  Only the Navy seems to know how to not say too much with the Navy Seals beach commercial.  Then again, they try to tell people that they don't have to travel because destiny will come to them.
Comments