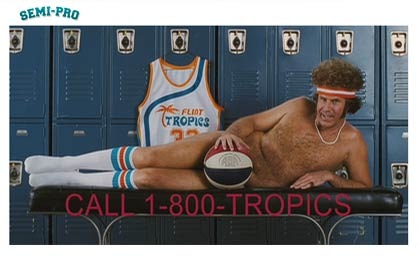 While "Semi-Pro," the new Will Ferrell movie about the Flint Tropics basketball team, topped the box office numbers over the weekend, it still only brought in $15.3 million according to Alicia Chang via the AP.  Chang says that, according to "box office analysts," it's possible that either a slow time of year or the movie's rating may have had the biggest impact, especially compared to two other Ferrell films: "Talledega Nights" and "Blades of Glory."  The other option is that it just didn't stand out as particularly fresh or funny.  I talked a little about my premonitions on this one here and here.
"Talledega" had the appeal of the well-established religion of NASCAR, and "Blades of Glory" had that "not-gay" family appeal with Napoleon Dynamism.  All "Semi-Pro" seemed to offer was a foul-mouthed, Old-Spice-wearing hairy beast in a jersey emblazoned with a ridiculous "mascot."  What's there to love?
I'm sure that it's doing great with the foul-mouthed, "definitely-not-gay" crowd: e.g., UVa fraternities.  After all, they know how hard it is to explain what their mascot is exactly (and who that mystery man was sitting with them at the movie theater on Friday).
Comments