The Clubman in the Mini line of cars has at least two paradise ads floating around the Internet.  The scenes look like this: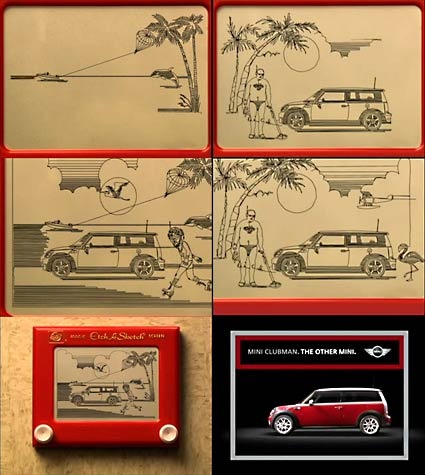 You can see that  no dolphins, flamingoes, or hairy-chested men in Speedos were spared from these fantastic line-art displays.
Here is the speedboat/dolphin version:
And here's the Speedo/airplane/flamingo/metal-detector version:
In spite of the everyday symbols of paradise, they're both amusing, and the artist is clearly very talented.  There's also the weird version in which the Mini races a rocket cowboy, a cheetah, and a unicorn:
Weird, right?  Searching for these, of course, led me down a completely new YouTube path.  Apparently, for several years now, there have been tons of Etch-A-Sketch drawings posted there.
Comments