Paradise might not care about blackout dates, but businesses there are not immune from heading for the red zone.  Hence this map: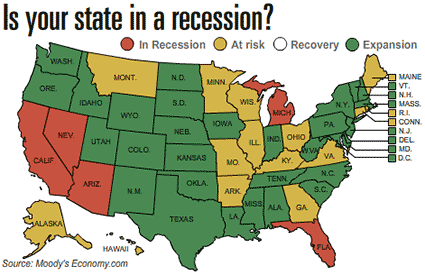 It's from the USA Today article "How's the economy in your hometown?"
I've been staring at it a lot and have begun to ponder to what extent paradise marketing had an effect on the housing bubble.  Four of the five big, red states there, California, Nevada, Arizona, and Florida, have all been big "ideal" places for escapists' homes, so much so that their housing values soared as builders and speculators flooded the markets.
If you go to the map and mouse over some of the states, you can see individual regions with real recession problems.  There's also the 2006 Business Week "The Map of Misery."  It tells a story about new and refinanced mortgages into what became much riskier loans.  The Moody's/USA Today map follows almost directly the same pattern as the Business Week version, which showed California as the reddest state in the nation for once.
Are there any researchers out there that would care to take on finding the correlation between escape/paradise marketing and growth in those markets?
Comments