Economics Research Associates "is an international consulting firm working primarily in real estate, entertainment and leisure, and land use policy and planning."  They are a competent and renowned firm.
For their website, they have a nice little transitional Flash opener on the website, which starts out with a guy standing on a surfboard with a gray background.  Then the background swills with a wild and wasteful ocean, telling the story of experience: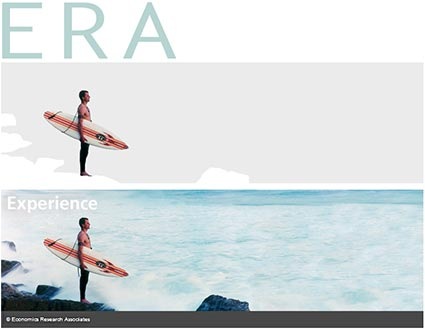 From there it moves on to show the Houston skyline among other scenes.  It ends with a man staring through binoculars from a skyscraper, presumably "focusing on results."
While I think it's pretty cool that we've come far enough in the business world to show a tattooed shirtless surfer as the opening face of a serious consulting firm, what does the metaphor of having experience surfing turbid waters really say from the outset about a very competent firm?
It's a cool picture, but so is every other happy ocean picture featured on Rapidsea.  I can see it from the entertainment/leisure angle of their practice, but surely there are other types of projects other than paradisiacal resorts and beaches in that category.
Also, Economics Research Associates, if you're reading this, your company's name is spelled incorrectly in your title bar:

I assume there is supposed to be an "s" there.
Comments