Starbucks has decided to stick it to the man by bringing back their old logo.  It was an issue discussed here in September in the early days of their retro brand movement.
They may have given in by carefully placing her locks, but they brought back the historically accurate two-tailed pose.  The new old Starbucks logo is out in full force.  They have the ages-old mermaid/siren plastered all over cups, sleeves, and everything else in the stores.  Here's the hot sleeve (that's what they should be called if they're not):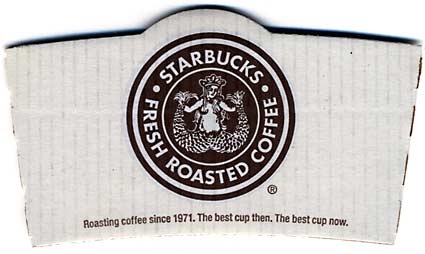 For those of you who overhear talk about the single-color branding, be sure to point out that they are using white ink there too.
Read this post at DeadProgrammer, which talks about and shows examples of the origins of the logo.  It appears that dirty is relative and that this IS the clean logo with or without the hair covering.
Comments