You may not be able to pronounce "ukulele" (even though you might think you can), but that sweet island instrument takes you away.  And "Dent May" may sound like a scrappy warplane piloted by a WWII hero during the Pearl Harbor attacks, but it's actually an indie pop musician from Mississippi/New York enamored with his ukulele.  His latest album is called "The Good Feeling Music of Dent May & His Magnificent Ukulele" and was released on February 3, 2009.
For those of you searching to find out if this album is a digitally re-mastered version of some long-gone ukulele hero, well, it's not.  It would seem from some Google sleuthing that Dent May's birth date is May 6, 1985, which would mean that he isn't nearly as old as you would think from his album cover: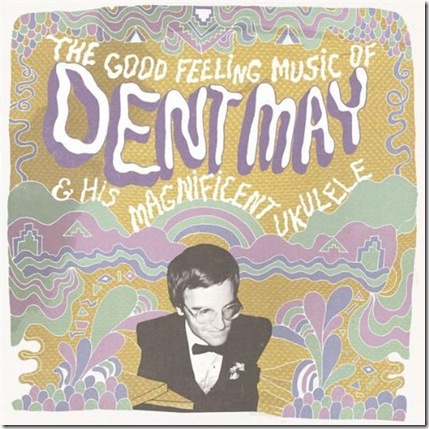 The band is made up of four members, and they have a sound that somehow exonerates the ukulele from past mainstream wrongs, in part through the mocking of great dorkdom shown in the album cover.  People at Amazon liked it so much that they featured it as the best album of the year so far in their latest MP3 Download newsletter: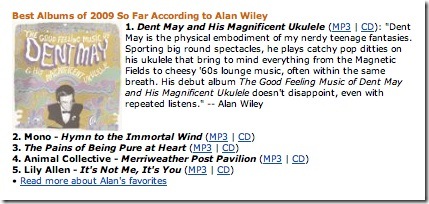 Here's the Amazon product page (this is a straight-up, unpaid endorsement).  You can hear samples there, but it's best to get a full sense of the music by following the links on Dent May's blog to full songs.  Here's a sample of one of them:
Lovely beach background, eh?  Now just buy the album.  It's only ten bucks.
Comments