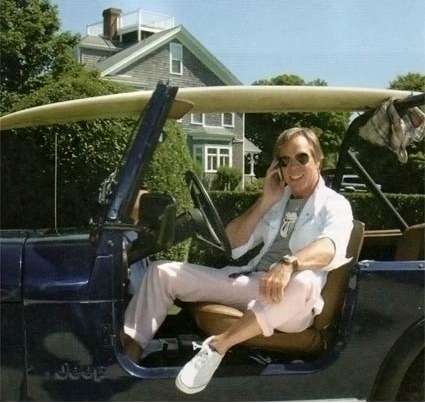 This photo from the May 2009 issue of Details drew me into an article about Tommy Hilfiger, or rather an article about what Tommy thinks of preppy style. How could you not be drawn into this one with that hot surfboard and Jeep? Not to mention that prepped out, but desaturated, rocker T-shirt and, oh, wha'? PINK pants?
Why did Details let this one slip out? Okay, it was "Courtesy of Tommy Hilfiger," so maybe they had little choice.  But whose plaid shorts did he manage to remove and leave hanging there?  The photographer's?
Crushed white-shell drive and privet hedges signal up some Siasconset ("Sconset") on Nantucket in Massachusetts. This picture has to be at least a year old since the trees there can't be that green yet.
The article itself is Tommy Hilfiger's "10 Rules of [Prep] Style." While the man's opinions are normally avoidable, his advice is actually pretty well reasoned if you're into the preppy thing. Where it veers off course is in point ten where he basically says that if you can't actually afford to live the preppy lifestyle on the islands this summer, you should treat yourself to Haagen-Dazs. Huh?!
What does that have to do with pink pants? They will so clash with my mango sorbet.
Anyway, read all about it on page 55. It's the cover where they label Eric Bana with "D-Cup" and "tranny" who "makes Captain Kirk his bitch." Okay, that's embellished, but it's all inside and out.  Welcome back, spring.  We love you.
Comments