Be forewarned that the Wynn Encore's XS night club, which is apparently one of the best nightclubs in Las Vegas at the moment, is a horrible place to host a party.  Do NOT choose this venue for an important event such as a big birthday, upscale bachelor/bachelorette party, or after-wedding event.  You will be disappointed and probably treated worse than if you pulled up your stretch Hummer to a McDonald's drive-thru and knocked down their speaker box.  To have a good time here, you better have the money (REAL money, like more than a god-like Vegas developer) to command attention (try buying their $10,000 cocktail/jewelry).  Otherwise, get in line.  This line: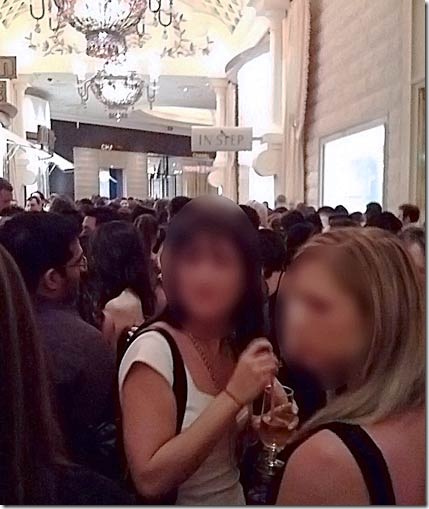 This is actually near the front of the "Guest List and Table Reservations" line.  You don't want to know what was behind us.  Clearly they've heard of velvet ropes, but they seemed to have only about 20 linear feet of them.  So, when they tell you that you should be there by 10:15 to get your table that you reserved months in advance for your large party, they mean that you should show up around 9:00.  By 10:00 PM, the lines were so long that the General Admissions people were getting in ahead of those in the "guest" line.
To make it worse for those without table reservations, you may hear them say that there is no guest list for men, so if you're not with a table reservation, just merge into the GA section, guys. It's not a good sign if a place has to have a policy to keep men away.
If you're not the type who can tell someone to get to the back of the line when they cut in front of you, you are going to be uncomfortable watching hoards of half-drunk sameness flowing sideways past you and floating in because they think that they're on some special list.  The crowd of special people is so intense that at one point we considered calling the Fire Department to have them clear the area because it was becoming dangerous.  At least security finally seemed to realize that the mob blocking the exits were a real problem.
By the time we were at the front ready to be let in, the place turned into GA, and our party's hostess (as in our friend who planned the weekend) had to make a small scene to get us in.  As we walked into the club, we were accused of trying to sneak in and had to prove that we were part of our group.  They wanted to know where our table host was.  So did we.  They eventually led us to a table that was big enough for five people max (for 11 people), next to one of the main doors.  So much for making a reservation.
They seemed really surprised when we got up and left.  They were never rude, but not a single staff member seemed to have any clue what to do with all the people around them.  The Circus Circus arcade staff could host a better party.
Too bad the pictures of the place look so nice because my fondest memory was of the headache from the minutes of heat-lamp fumes that I inhaled as we all stared appallingly at the table we were renting for more than a Manhattan Penthouse (per square foot).  Let's just say that this website photo was not our view: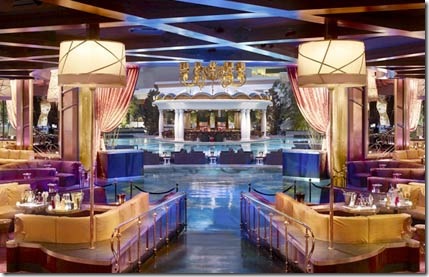 In the end, we parked ourselves at a lounge in the hotel and pulled up tables to make room for us all.  The people on the wait staff were the slowest ever, which I can understand somewhat when you don't expect a party of 10+ to show up, which explains why we would never have chosen this route in the first place.
This area was ugly too.  They attempted (and failed) to match mosaic tiles on the walls with tiles on the tables.  Were we walking down a Lisbon sidewalk?  The tables ended up looking like a round concrete patio table your grandmother picked up at Costco, not something you want to stare at while enjoying what is dubbed as one of the most exclusive resorts in the country.  Then the best song ever dropped to our ears: "Two Tickets to Paradise" started playing overhead.  Indeed, at least two taxis out of the Encore at that point were the way to go because the place was the farthest from any paradise.
Beyond XS, the Wynn Encore is a pretty bad hotel in general, at least on the surface.  In trying to pay attention to every detail, they have failed to come up with a sense of any sort of place.  They had enough money to hire a ton of people, but seemed to skimp on training them in the everyday operations of a hotel.  People were running around with no clear structure.  I literally felt sorry for them because they looked so frazzled, everyone from security to the waitresses.  This place was a mess.  And then there was the decor.
Wynn designers seemingly bought every nice object they could find and tried to blend them all together into a cohesive nothingness.  The Wynn decor and landscaping in general is a trans-spectrum emetic.  It's the most schizophrenic two-hotel mega-resort in Vegas.  The streetscape wants to be Yosemite National Park, the front door Cape Town, and the casino New Orleans.
The wall drapings in the latter felt like some old-Dallas, oil-money diva hired an interior design firm so that she could tell them what her fairy-tale bedroom would look like.  But, no, they actually have an Executive Vice President of Design who seems fond of the 200-year-old Indonesian driftwood that he bought in Paris to place next to a Chinese Buddha and a Brazilian amethyst geode.  I'm sure he's a talented guy, but this place is all over the desert.
Even the Encore's website is a wreck.  If you can chase down the menu option you want, you might make it to their spa page: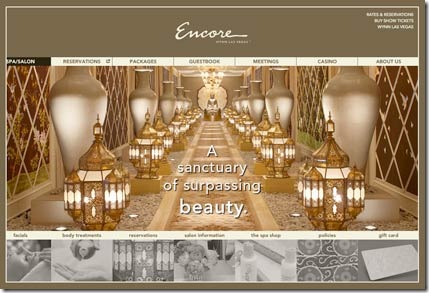 Hint to the Wynn: cachez your cliché and fix this wording: "A sanctuary of surpassing beauty."  Do you really want to be in a spa where beauty is surpassing you for the next girl?  And why has Buddha become the symbol for calm place?  Is there no other calming icon in the entire world?
So, I suppose that this post is technically not an endorsement of the place.  It's subjective, so please leave positive comments if you disagree.  More than anything, the Wynn Encore ruined an important part of what was, overall, a great weekend.  Because of that, our group is now spreading the word for others to avoid XS.
If you're thinking of dropping several thousand dollars on bottle service at XS, skip that idea and get your party a suite at The Hotel at Mandalay Bay.  At least when they screw up there they make it right.  And the views are amazing, with the Wynn far in the distance.
Comments