Australia's Great Barrier Reef made yet another media cameo this month with Bing's inclusion of an aerial image of the world wonder as its photo of the day today June 11, 2009: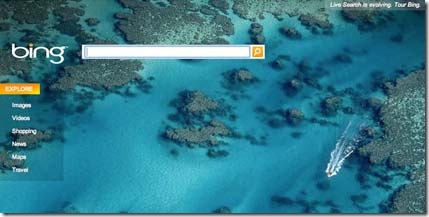 Have you used the new service yet?  It's actually pretty decent.  I'm trying to give it a fair chance, but it's hard to break the Google habit.
This image accompanies others of a paradisiacal or marine nature since Bing launched, including the Cinque Terre in Italy, the beaches of Normandy, a toasty Thailand, and a bit of Portugal.
There were also a series of city images from Europe and even one from San Antonio, Texas.  The latter is notable because it shows the River Walk, which is a successful urban planning project for the US and especially for Texas.
Comments