June 5, 2009, marks the opening of the film Home by Yann Arthus-Betrand.  The film focuses on bringing beautiful aerial images of all things earth to the masses in an attempt to further rattle our souls into doing something about the massive destruction we have caused in recent decades.
Interestingly enough, the still that was chosen (probably perfectly crafted so that YouTube would offer it up as one of the three possible frames for the opening still to represent the whole movie) is of Heart Reef in Queensland, Australia – part of the Great Barrier Reef of the Whitsunday Islands.  This reef gained a significant amount of world exposure during the recent "Best Job in the World" contest hosted by Tourism Queensland on their website, in which a UK citizen was chosen to head to Hamilton Island for a July 1st start date.
As the shot rolls onto the screen, the narrator says, "We know that the solutions are there today. We all have the power to change. So what are we waiting for?"  Then the heart is morphed into a shot of the whole earth.  If you already clicked on play to watch the video, here's the still again: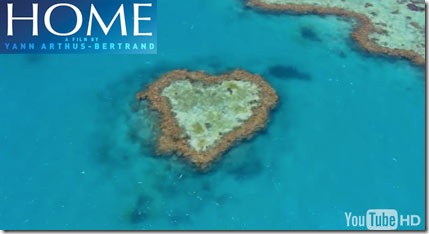 The effort to bring this to a large number of people is commendable.  I only hope that the global warming deniers won't overpower the conversation with that topic alone when there are so many other reasons to act to stop the destruction of natural systems and the creation of all the pollutants we each release on a daily basis.
The PPR Group, the mega-luxury firm, has sponsored the film.  You can follow the film at this YouTube channel.
Comments