With fewer entries at the 56th Cannes Lions International Advertising Festival this year, one seemingly successful campaign is continuing to garner more attention even after its big push earlier this year: The Best Job in the World by Tourism Queensland.  It just won two major Grand Prix awards at Cannes.  However, is it too early to judge its real success in terms of drawing visitors to the Great Barrier Reef while still somehow protecting the world wonder?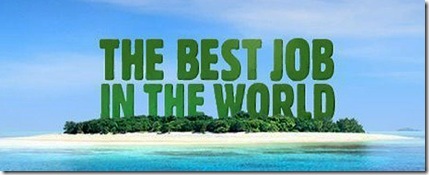 While the success of generating heaps of publicity on the (relative) cheap is undeniable, it remains to be seen if the campaign can actually draw tourists to the islands once the winner, Ben Southall, begins six months of work on July 1, 2009.  The campaign got attention because it mixed the universal desire to escape to paradise with an actual opportunity to do so…with the perfect storm of financial tsu-nomics to propel people to reach for a video camera to begin their YouTube application.  Who wouldn't be interested?  Who wouldn't be happy that a campaign could be so successful in an otherwise difficult time?
The uglier side of the competition is that it was a real job, and Tourism Queensland (TQ) had a very clear agenda.  They were probably shocked by their own success early on and did not hesitate to run with the viral publicity (although I could be wrong because they mentioned that they reserved the right to limit the number of entrants if demand was too high).
Perhaps what they underestimated was the draw of paradise to a global society bombarded by daily images of sunny beaches.  Because of this attraction, the selection committee went so far as bend their own rules to expand the number of possible finalists who would head Down Under to Queensland to duke it out.
TQ had originally said that they would allow 10 finalists plus one possible viewer-chosen "wild card" participant, but they later added an additional five people.  They seem to have chosen by country instead of participant qualifications, as the group was made up of representatives of the U.K., Germany, the U.S., India, China, France, Taiwan (the wild card applicant), New Zealand, Canada, Ireland, Singapore, Australia (two people), Korea, Netherlands, and Japan.  It's clear that the finalists were used as tools to drum up additional publicity in practically every wealthy corner of the world.  You can read the headlines in each proud country: "SOANDSO won one of 16 tickets to paradise!"
I speculated early on in the competition that ultimately they were going after the anglo scuba diving adventurists.  Sadly, the Australians all but knew that they were out of the running because Tourism Queensland made few efforts to hide that they were really looking for someone from abroad, yet two Australians made it to the finals in an attempt to stir up a bit of national pride equal opportunity and perhaps a spirit of provincial competition.  But ultimately TQ knew their target market, and they chose a native English-speaking human fish, a friendly someone whom the world would not chastise for beating so many other seemingly worthy competitors.
While rabid seas on the world economic horizon were probably the single biggest contributor to the success of the publicity campaign for those needing to escape, they could also capsize the tourist turnout drive.  How can people afford the thousands of dollars that it costs to get to Australia?  In fact, the people who seemed most excited about the job were those who were probably least likely to be able to actually get there any other way?  So that leaves many of them out of the eventual conversion to actual visitors.
One of the real problems behind promoting tourism for Queensland and the Great Barrier Reef is that it's not a sustainable economic growth model in the long term.  It's a game of getting "heads in beds" if you want economic development from tourism.
How many millions of tons of pollutants are jetted into the air on the long-haul flights to Australia from places like Europe every year?  If you believe that greenhouses gases are leading to the demise of vast areas of coral reef, why on earth would you want to add to them let alone send millions of people swimming among the world treasure?
In the end, it might be best to have somebody on the ground telling the story of the Reef during a period in which the world doesn't have the economic means to come en masse to see the place.  At least then people can experience the adventures from behind their computer screens without adding a few thousand tons of CO2 to the air we're all breathing.
Living vicariously through others is often the best way to travel.  I have personally often been saddened after visiting a new place because I can never again smile inside with anticipation and say, "I've never been there."
Ben Southall has his work cut out for him, and I sincerely hope that he can find a way to actually bring fewer people to the Great Barrier Reef by exposing them to its wonders and helping demystify some of the fake aspects of paradise that we often go jetting off in search of on our tropical vacations.
Congrats, Ben and Tourism Queensland.  Do what's right for the reef.  You have an actual paradise, and it's up to you to go beyond taking pictures of clownfish and palm trees to reveal its true nature to the world.  Show us why it's worth fighting for.  The worst possible out come of the next six months would be a blog that reads like a slideshow of holiday photos of people we don't even know.  It is a real job.  Best of luck, Mr. Caretaker.
Comments