The Los Angeles County Museum of Art is getting into the spirit of Discovery Channel's Shark Week with their advertising for an exhibit called American Stories: Paintings of Everyday Life, 1765–1915, which runs from February 28 to May 23, 2010. Check out this dramatic scene of a young swimmer being rescued from hungry sharks featured in several ads running prominently on the LA Times website:

Everybody loves to hate sharks, and given the success of everyday Jaws-frenzied initiatives why wouldn't a museum latch onto that style of promotion to draw more people into the art world? I'm not sure what else they could mean by "Paintings of Everyday Life" in America because, while shark images are everywhere, people are not getting attacked by them daily, even in the early moments of the Republic.
Okay, so this 14-year-old boy was apparently just enjoying some "everyday" swimming in Havana when he was attacked and lost part of his right leg, which is craftily cropped by the artist (and even more by the graphic designer of this ad)—a dramatic story. According to that page, he went on to become the "brief" but everyday Lord Mayor of London.
The painting is called "Watson and the Shark" and was painted by John Singleton Copley, "America's most important colonial painter," in 1778 (oil on canvas, 71 3/4 x 90 1/2 in.). It is part of the permanent collection at the National Gallery of Art in Washington, DC, purchased in 1963. This image was supplied to LACMA courtesy of the Board of Trustees of the National Gallery of Art.
The image in the ads seems to have been lightened a bit compared to the version featured online. They were perhaps trying to better match the painting's colors with the red-white-blue gradients that drift across the exhibit's logo. Most importantly, they really illuminated my favorite part of the painting, which is the shark's ear—just your everyday shark with an ear.
A vertical version of the ad also exists, which may lead people to believe that the swimmer is a woman and that the shark might not be an anthropomorphized mutant: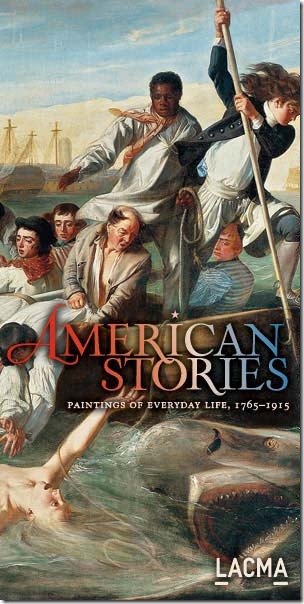 According to the NGA's website, Copley painted a full-sized replica of this painting that now hangs in Boston and a smaller version that finds its home in Detroit. The real-life boy's name was Brook Watson. You can read more about him and the painting at this link, which is the source of the information above. A full bibliography for the museum's web features is also available here. A story of the presumed and possible sources of the painting's inspiration can also be found here, with photo credits for non-museum images here.
Comments